Avengers 2: Age Of Ultron Will Have More Hulk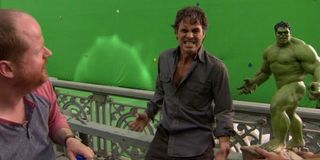 The Hulk proved a big green dud in two solo movies (2003's Hulk and 2008's The Incredible Hulk). But his brooding Mark Ruffalo makeover in 2012's The Avengers made him a fast fan favorite. (And of course the below Loki-smashing didn't hurt.) Now, Ruffalo himself is hinting that the Hulk will be getting a lot more screentime in his next outing Avengers: Age of Ultron.
Total Film spoke with Mark Ruffalo, who is currently in production on Avengers: Age of Ultron, and the star shared a few details about what Hulk fans can anticipate in the sequel. He said:
That may seem vague, but considering Ruffalo has been publically chastised by Marvel for over-sharing on the project, we can't be too surprised he's playing things so close to the vest. However, Ruffalo did give one more bit of info about Avengers: Age of Ultron, this time he's stopped worrying and learned to love the greenscreen. He explains:
In Avengers, Bruce "The Hulk" Banner was technically one of the central heroes, but mostly he played as a foil/straight man to Robert Downey Jr.'s snarky Tony Stark. Still, Ruffalo--with his trademark hangdog expression and weary smiles--breathed a new life into the character that had been twice fumbled before. All of a sudden, fans were crying out for another Hulk movie. While Marvel hasn't announced any such solo spin-off, they were savvy enough to weave Banner into the post-credit scene of Iron Man 3, where he played the sleepy shoulder-to-lean on to the recounting Tony Stark.
Ruffalo and Downey share a great onscreen chemistry, which we'd expect Joss Whedon will take further advantage of in Avengers: Age of Ultron. But the real challenge could be topping a man to monster moment as epic as this one:
Avengers: Age of Ultron is officially half-way through production. The sequel to the biggest blockbuster of 2012 is due to hit theaters May 1, 2015. You can bet other major releases will be clearing a path. You just don't mess with The Avengers.
Your Daily Blend of Entertainment News
Staff writer at CinemaBlend.