7 Aquaman Villains Who Should Be Used In The DC Solo Movie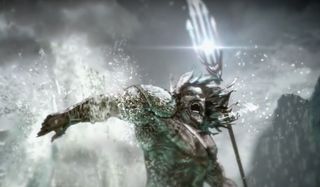 We're a little over two years from Aquaman leading his own solo movie, which is coming on the heels of his Batman v Superman: Dawn of Justice cameo and his major role in Justice League. While it's already been confirmed that Jason Momoa and Amber Heard will reprise the eponymous hero and Mera, respectively, there's been no official word yet on who Aquaman's villain will be. However, recently director James Wan talked about how interesting he found Aquaman's cast of characters, but wouldn't reveal which bad guy he'll use in the movie. Note his use of plural.
It looks like fans can expect to see multiple Aquaman baddies when his movie arrives in 2018, but the question now is who Wan and the creative team have in mind. Having looked over Aquaman's decades-long history, we've selected the seven best candidates for being brought into the DC Extended Universe. Not all of these villains would work as main antagonists, but they're worthy enough to be brought to the big screen to tangle with the Atlantean hero. First up…
Black Manta
Black Manta is without a doubt Aquaman's most recognizable foe, so he's obviously the first evil candidate that comes to mind for the Aquaman movie. He is a ruthless treasure hunter who has been using his high-tech diving suit (complete with a helmet that shoots laser blasts) and fighting skills to antagonize Aquaman in the comics since 1967. The New 52 took their feud to a more personal level after Arthur accidentally killed Manta's father when he actually meant to kill Manta for attacking his own father, Thomas Curry. Black Manta has cemented himself as Aquaman's arch-nemesis, so using him as the movie's main antagonist would be a great way to swing strong. Besides, just look at his costume! He's one of the most visually distinctive bad guys in the DC Universe, and that look is just begging to be brought into live action.
King Shark
King Shark is definitely not main villain material, but in case it's not obvious in the picture above, he would make an excellent physical opponent for Aquaman. Starting out as Superboy's foe in the comics, King Shark has had a few run-ins with the King of Atlantis over the years, and he definitely fits the bill for some kind of weird creature/monstrosity that would be lurking in the waters. It was rumored last year that there will be a fight in Suicide Squad between King Shark and Aquaman, and while it's less likely now there will be such a scene in that movie, it would be cool to see King Shark in the Aquaman movie either as a threat in the opening or serving the main antagonist. The Flash TV series did an impressive job with their King Shark, but just imagine how he would look being created from a blockbuster budget.
Scavenger
As the name suggests, Scavenger likes to scour around the oceans to find treasures, weaponry, Atlantean technology and other artifacts resting deep below to sell to interested parties. Besides being an expert diver, his deep-sea suit is packed with weaponry to use in case Aquaman interferes in his business. He won't let the aquatic hero get in the way of him building up a gigantic fortune. Because Scavenger's M.O. is so similar to Black Manta's, we'd recommend that he be used as a side villain if Black Manta ends up being Aquaman's main antagonist, similar to how Anatoli Knyazev, better known in the comics as KGBeast, was Lex Luthor's henchman in Batman v Superman: Dawn of Justice. Show him serving as Black Manta's second-in-command of the criminal/pirate group causing trouble across Earth's waters.
The Dead King
Thousands of years ago, Atlan, the king of Atlantis, was betrayed by his brother, Orin. In addition to being overthrown as monarch, Atlan's family was murdered in cold blood. Years later, Atlan returned and killed his brother and the new queen and also used his six powerful, newly-forged weapons to sink Atlantis. In the present day, Atlan awoke in an undead state to wreak vengeance on Aquaman and take back the Atlantean throne, believing that because Arthur Curry was Orin's descendant, he wasn't the kingdom's true ruler. Of all the entries on this list, The Dead King would arguably be the trickiest to pull off on the big screen, but let's not forget that as of next year's Justice League, Aquaman isn't officially Atlantis' king. Assuming he becomes its ruler during the Aquaman movie, battling a newly-risen Atlan over the throne and support of his people would make an excellent conflict.
Siren
Aquaman's love interest, Mera, may also be a water breather, but she isn't an Atlantean native. She originally was royalty on Xebel, an underwater penal colony contained in the Bermuda Triangle populated with the descendants of Alantean separatists. Mera was sent to kill Aquaman for the perceived crimes against her people, but when she truly fell in love with him she turned her back on Xebel. Years later, her identical sister, Siren, came with a force of Xebel soldiers to assassinate Aquaman and punish Mera for her inaction. If the DCEU is wise, they'll retain Mera's Xebel background, which means that for the Aquaman movie, her true origins can be revealed as Siren attacks. Siren has enough manpower at her disposal to pose a threat to all of Atlantis, but her own natural abilities, including hydrokinesis, make her dangerous enough to kill Aquaman singlehandedly if given the chance.
The Trench
Geoff Johns' Aquaman run in the comics introduced The Trench, cannibalistic sea creatures who resided on the ocean floor and were also descendants of the survivors of Atlantis' sinking, just like the present day Atlanteans and Xebelians. At the start of the New 52, The Trench came to the surface in search of food (translated: humans), and Aquaman was only able to prevent a full invasion by triggering a volcanic eruption and trapping them at the bottom of the ocean, though they were later freed. As an army, The Trench work great as a force to attack Atlantis or cause chaos on the surface, but they need to be serving a singular main villain by the latter half of Aquaman. Who should that person be? Well, the Dead King would work, but the final character on this list would be an even better option…
Ocean Master
Black Manta may be Aquaman's most well known villain, but the hero's half-brother Orm, a.k.a. Ocean Master, comes as a close second, and as far as the Aquaman movie goes, he stands an equal chance of being adapted. In the New 52 continuity, Orm and Arthur Curry share the same Atlantean mother, and when Arthur returned to Atlantis as an adult, Orm's claim to the throne disappeared. Needless to say, he grew bitter and eventually became one of his half-brother's chief adversaries, whether it was secretly allying with Black Manta or using his supporters and The Trench to attack the surface during the "Throne of Atlantis" arc. For Aquaman, Ocean Master would be best used either instigating a revolution across Atlantis after being ousted as king or attacking the surface as revenge against his half-brother, since Arthur also considers humans his people.
Your Daily Blend of Entertainment News
Connoisseur of Marvel, DC, Star Wars, John Wick, MonsterVerse and Doctor Who lore. He's aware he looks like Harry Potter and Clark Kent.
Your Daily Blend of Entertainment News
Thank you for signing up to CinemaBlend. You will receive a verification email shortly.
There was a problem. Please refresh the page and try again.