The 7 Bravest Pixar Characters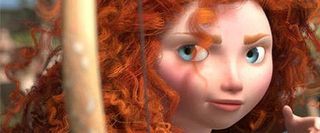 The title of this week's new Pixar film says a lot about its heroine, Merida. Yes, she's a princess with a lot of duties to her Scottish kingdom, and she's a daughter and a sister and better with a bow and arrow than just about anyone. But when things get tough, and when it comes time to step up and defend the people she loves, Merida is just plain brave. And as you can see in the movie Brave, it's not just the kind of bravery that lets you stick up to a giant bear (like her father does in the beginning of the film), but own up to your own past mistakes, or open yourself up to people you've been keeping at arm's length.
Pixar movies have always celebrated bravery, and true to form, it's not always the kind of bravery you'd expect. Whether admitting they're wrong or clinging to their dreams or simply helping their friends of out of a jam, lots of Pixar heroes have bravery right where it counts-- which is why it was surprisingly hard to pick our own bravest Pixar heroes. But each of us made a choice, and you can read below why an ordinary woman, a super heroine, a withered old food critic, a terrified fish, a toy, a lonely robot and a little girl are all the bravest heroes Pixar has ever created. Then, of course, let us know your own picks in the comments below.
Anton Ego in Ratatouille
Even if it's about the most inconsequential thing in the world, it's always hard to admit when you're wrong. While it varies from person to person, we all have a certain amount of hubris and pride within us that lets us think we're always right and everyone else is wrong. There is, however, one thing that can make it even harder to face up to your faults: respect. If you have managed to convince everyone of your wisdom and opinion, then telling people that you are wrong has stakes and consequences. But that's what makes Anton Ego of Ratatouille such a brave character.
The foremost food critic in all of Paris, the city known as the capital of cuisine, Ego not only wielded enough power in his pen to ruin the reputation and legacy of Auguste Gusteau's famous restaurant, but even went as far as to denounce Gusteau's philosophy that stated anyone can cook. But then Ego eats the ratatouille prepared by Remy, a common rat, and it changes him forever. The ending of Brad Bird's film is one of the most emotional in the Pixar library, and the key reason is the breathtaking and emotional review written by Ego (and performed by Peter O'Toole) following his life-changing meal. The food critic could have let stubbornness win the day and he could have forced himself to give another bad review to Gusteau's, but Ego did something greater: he decided to be brave.
Ellie Fredricksen in Up
The best kind of bravery isn't lusted after or planned. It's a selfless response to an awful situation. As a little girl, Ellie Fredericksen was loud, boastful and full of plans, the type of child who'd rip pages out of library books and befriend a strange boy wandering around her clubhouse. She was going places, dangerous places that would require a helmet, a partner and all the bravery she could muster, but as the years passed, she traded in her grandiose dreams of faraway, savage lands for the comfort, love and fulfillment of a quiet life with that trusted partner.
Stowed away and maybe even forgotten, that bravery remained alongside her adventuring helmet for decades until it was suddenly needed. On her death bed and likely terrified, Ellie put aside her worry and handed every ounce of that bravery onto Carl, asking not that he spend his life mourning her but instead spend it having more adventures. Anything Carl accomplished after was in honor of her and a direct result of her bravery.
Boo in Monsters Inc.
When it comes to the Pixar's bravest character it's really a no brainer. Most people probably think of the cowboy or the spaceman from Toy Story, a member of The Incredibles family or even the little robot with a giant heart called Wall-E but Monsters, Inc.'s Boo is by far the bravest. Sure, Sully (John Goodman) and Mike (Billy Crystal) might be the stars of Monsters, Inc. but Boo is the film's true hero and also the most courageous character in the Pixar universe.
Just think of what the two year old (human) goes through and not just during her unplanned visit to Monstropolis but every night before it. Boo, voiced by Mary Gibbs, has to endure what is presumably months of late night torture at the hands of the number two scarer at Monsters, Inc. named Randall (Steve Buscemi). And in the end, after what for me would have been a terrifying adventure through a monstrous world - complete with seeing her hero as just another scarer as well as a harrowing chase through the factory's elaborate door storage - Boo is still able to find the courage to do battle with her tormentor Randall and save Sully (oh, and also save all the other kids from scarers by ending to the need for 'scream'). "Kitty!"
WALL-E in WALL-E
WALL-E's purpose is in his name, an acronym for "Waste Allocation Load Lifter – Earth Class." All he's programmed to do is package garbage into stackable cubes. But when he meets and falls for the sleek and (yes) sexy EVE, WALL-E's wires are forever crossed. He reverses his inherent programming to stay by her side, even when she shuts down because her mission has been fulfilled. And what does WALL-E do when EVE is retrieved? Without batting a robotic eye, he attaches himself to the departing ship and embarks on a planet-hopping adventure that remains one of Pixar's best.
But WALL-E deserves the moniker for Pixar's "bravest" because his courage knows no bounds. He consistently rises to the challenge to protect EVE, the other misfit robots aboard the Axiom, the obese human population and – in the final lesson – Earth itself. We owe our planet's existence to this brave little robot. Pop in a copy of Hello, Dolly! and celebrate, in his honor.
Helen Parr (A.K.A Elastigirl) in The Incredibles
Over the course of this animated adventure, each member of The Incredibles clan proves heroic, but it was Helen Parr (voiced by Holly Hunter) who showed the most bravery because she was the one who most fully understood the dangers that they faced. True bravery is about overcoming your fear, and this vigilante heroine turned happy homemaker faced down plenty of frightening possibilities, including deceit, divorce and even death.
Derring-do was practically a game to her husband up until he was trapped by the sinister Syndrome, but as soon as Bob goes missing, playtime is over for Mrs. Parr. Fearing her husband is in trouble—or possibly cheating on her, in which case he was definitely in trouble—she flies into uncharted territory—both figuratively and literally—only to discover two of her children have tagged along. As their plane is blown to smithereens all around them, Helen pulls the ultimate mom-arm to parachute her children to safety. Then she uses her own body to shield them from the deadly debris, all before frankly explaining the terrifying reality that faces them: if Syndrome's forces find them, they will attempt to murder them. Undaunted by but not blind to danger, Helen's courage inspires her kids to bravery, pulling together one of the most satisfying superhero ensembles we've ever seen.
Woody from the Toy Story series
Andy's cowboy pal Woody has plenty of positive virtues like kindness and loyalty, but he's also proven to be especially brave. Over the course of the three Toy Story films, Woody found himself and his fellow toys in a variety of predicaments, some of which put him in imminent danger, including being separated from home and his fellow toys on numerous occasions. Time and again, he braved the storm, faced the dangers head on, and occasionally helped lead other toys to safety, always with the determination to get back to Andy.
It's acknowledging Woody's love and loyalty toward his owner that brings us to his greatest act of bravery. After near-death by incineration toward the end of Toy Story 3, it was looking like Woody was going on to college, while the rest of the toys were headed for the great retirement village in the attic. Then Woody made the last-minute decision to convince Andy (via a well placed Post-It note) to donate his favorite toys (including himself) to Bonnie, the small daughter of a family friend. Though we know how much Woody loves Andy, he knew it was time to go. It takes bravery to overcome fear in the face of danger, but it takes a special kind of courage to know when it's time to let go, embrace change with a hopeful smile and move forward to a new adventure.
Marlin from Finding Nemo
Marlin has been a scaredy-cat from pretty much the moment he found out he would be a father, and with good reason-- losing your wife in a violent attack would make anybody skittish. But like so many parents when they are called upon to protect their kids, Marlin finds his own true bravery when it counts, traveling across the entire ocean and facing all kinds of threats in dogged pursuit of his son.
And he's not just brave when he successfully escapes the bloodthirsty sharks, or navigates the jellyfish forest, or lets the whale shoot him and Dory out of the blowhole. He's brave to open himself up to Dory to begin with, letting go of his aversion to strangers and rule-breakers and building a strong friendship. He's brave to trust Dory to remember P. Sherman's address, and to trust the advice of Crush the turtle on how to enjoy riding the East Australian Current. And in the moment when it counts most, when Nemo is trapped in an enormous fishing net, Marlin does the bravest thing any parent can do-- he trusts his kid to save himself.
This poll is no longer available.
Your Daily Blend of Entertainment News
Thank you for signing up to CinemaBlend. You will receive a verification email shortly.
There was a problem. Please refresh the page and try again.