7 Major Marvel Storylines They Need To Adapt After Infinity War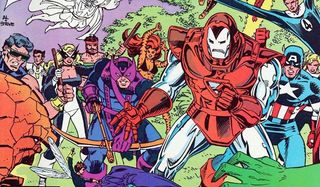 Marvel Studios has some rather epic comic book films coming our way between now and 2019, from Captain America: Civil War, to the monster two-parter The Avengers: Infinity War. But while it's been said that the battle against Thanos is what the Marvel Cinematic Universe has really been building to ever since its launch in 2008, the company doesn't exactly have plans to shut its doors beyond that point. Instead, they plan on delivering many more years of superhero stories on the big screen. The big question that looms over all of it, however, is where does the MCU go from there?
Fortunately, that query is one with a lot of answers, thanks to the extensive library of Marvel Comics published over the decades. Those pages are filled to the brim with fantastic story ideas that filmmakers could easily turn into live-action movies beyond the events of The Avengers: Infinity War. But what storylines in particular would be best suited for this treatment? We've singled out seven that we would really love to see.
Secret Wars
Marvel has actually labeled many events as the "Secret Wars" over the years – including a brand new one that will begin in May – but the title I am referring to here is the original "Secret Wars" from 1984/1985. In the classic arc, a cosmic being known as The Beyonder comes upon Earth and finds himself captivated by the struggle between superheroes and supervillains. Wanting to take his observation to the next level, he teleports a great number of them to a planet called Battleworld in a faraway galaxy. The characters are told that if they kill their enemies, they will be given anything in the universe that they desire. This is really the ultimate crossover storyline that would be best executed with a cast as big as possible, and the post-Infinity War period of the Marvel Cinematic Universe may be the perfect time.
World War Hulk
Admittedly, executing a "World War Hulk" movie would require a certain amount of setup. At some point people in the Marvel Cinematic Universe will have to decide that Hulk is simply too dangerous to stay on Earth, and must be sent away for his own good. This, naturally, would be used to put the giant green monster in the mood for some revenge, and upon his return to the planet motivate him to begin a campaign of destruction. Depending on how it's played, there could be tremendous amount of drama and interesting emotional dilemmas to go with all of the guaranteed awesome action, as audiences would potentially be torn in regards to who to root for: the jade beast with an understandable vendetta, or the heroes who were only trying to make decisions in the best interest of the human race. The Marvel Cinematic Universe is pretty light on Hulk in the immediate future, but "World War Hulk" could more than make up for that post-Infinity War.
Secret Invasion
Marvel doesn't actually need to look back more than a decade in the comics to find some great material to bring to the big screen – as evidenced by the fact that Captain America: Civil War is coming out next year. Another fantastic recent event to adapt, however, would be the 2008/2009 storyline known as Secret Invasion. Obviously the exact details of the crossover wouldn't have to be directly brought to live action, but there is tremendous potential in the basic premise: over a period of years, a shapeshifting alien force has been slowly abducting and replacing costumed heroes, leaving the world without the ability to trust anyone. It would be nice if this plan could be executed with the Skrulls – who are at the center of the invasion in the comics – but if there are rights issues there with 20th Century Fox, Marvel could honestly just use a new kind of extraterrestrial instead, and it wouldn't be that big a deal.
Kang The Conqueror
Admittedly I'm kind of cheating here, as "Kang The Conqueror" isn't actually a defined Marvel Storyline, but what he could be is the perfect supervillain to take Thanos' place at the top of the food chain after The Avengers: Infinity War. We know the Time Stone will be coming into play soon, introducing the idea of time travel to the Marvel Cinematic Universe, and from there it's a hop, skip and a jump before you find a way to have Kang travel from the 40th Century to the 21st and try and to take over planet Earth. In the comics, he is a formidable foe with futuristic technology, weaponry and armor, who has faced off with The Avengers many, many times. It's not at all hard to imagine that great battle making its way into live action.
Spider-Verse
Those of you who read or are familiar with the very recent "Spider-Verse" storyline may be scratching your heads right now. After all, it's a very Spider-Man centric story, and not one that really involves a wide array of characters like typically seen in a crossover event. Well, my idea is basically to tweak the "Spider-Verse" story, and instead of having a supervillain crossing dimensions to kill every version of the webslinger in existence instead the movie could follow a plot to kill every version of the Avengers. There's obviously a great deal of fun that could be had in coming up with all kinds of strange alternate dimensions, and it opens up the doors to and endless array of deep comic book references. This would also be a rather awesome way to introduce some brand new characters who could potentially stick around in the Marvel Cinematic Universe even after all of the interdimensional craziness has died down.
Original Sin
Both Iron Man 3 and Captain America: The Winter Soldier demonstrated that it's pretty great to see superheroes on the trail of a mystery, and an adaptation of Original Sin would provide a fascinating opportunity to do that again on a much, much larger scale. Admittedly some leg work would need to be done introducing Uatu the Watcher into the mix – establishing him as an incredibly powerful extraterrestrial who objectively views the goings-on of the universe – but the investigation of his murder could take the ever growing ensemble of heroes in the Marvel world into some fascinating directions as they investigate the case both on Earth and around the galaxy. It would obviously be a very different kind of ensemble Marvel story to tell, but the studio will definitely have to try and keep things fresh after The Avengers: Infinity War, and "Original Sin" could introduce a great way to do just that.
Avengers vs. X-Men
I saved this one for last because it's really the pipe dream of all pipe dreams… but we also used to say that about Spider-Man joining The Avengers, right? Rather than being a direct adaptation of 2012 comics of the same name, I envision that the film would merely borrow the title "Avengers vs. X-Men" in the same fashion as The Avengers: Age of Ultron, and find a way to bridge a gap between the "dimensions" of the two separate franchises and have them come face-to-face. From there, we could see the two teams of heroes battling for one reason or another, but then perhaps uniting to take down a greater evil. Obviously making this movie happen would involve a deal being made between Marvel Studios and 20th Century Fox, and while that doesn't seem super likely right now, it's impossible to say what the state of things will be after The Avengers: Infinity War Part 2 comes out in 2019.
Your Daily Blend of Entertainment News
Assistant Managing Editor
NJ native who calls LA home and lives in a Dreamatorium. A decade-plus CinemaBlend veteran who is endlessly enthusiastic about the career he's dreamt of since seventh grade.
Your Daily Blend of Entertainment News
Thank you for signing up to CinemaBlend. You will receive a verification email shortly.
There was a problem. Please refresh the page and try again.