7 More Horror Sequels That Are Actually Awesome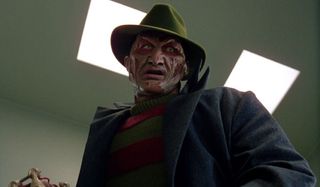 The horror genre is fairly infamous for having a pretty terrible quality-to-crap ratio in an overall sense, and the picture doesn't get any prettier when just looking at the long history of sequels. There is a shocking number of horror franchises with numerous terrible follow-ups, most just made as cash grabs or in the hopes of finding a cult audience. That being said, there are a few diamonds in the rough, and it's those titles we want to shine a light on today.
Last year we made a ranking of the top 10 horror sequels of all time, but James Wan's The Conjuring 2 - a great horror sequel in its own right – arriving in theaters this week, we figured now would be a good time to add to that list. We've collected a list of seven more movies that have surpassed expectations from the genre, and resulted in damn fine entertainment. Is your favorite on here? Read on and find out!
Return Of The Fly
The original The Fly from director Kurt Neumann introduced a fantastic horror/scio-fi concept in its tale of a teleportation experiment gone wrong, and what makes director Edward Bernds'Return Of The Fly a worthy follow up is the fact that it builds on the premise while also presenting a new story (an important quality for any sequel). The movie takes the weird science from the first movie and expands it with some seriously creepy results. If you've ever wanted to see what happens when a man is spliced with a guinea pig, this is the film for you.
Wes Craven's New Nightmare
The Nightmare on Elm Street franchise got a bit off track after its brilliant first movie, but thankfully Wes Craven came back around to give us another amazing Freddy Krueger tale for chapter seven, a.k.a. Wes Craven's New Nightmare. Similar to what he would later do with Scream, Craven took a totally meta approach with the film, having Freddy hunt the creators of the original movie in our own reality, and it's a fantastic, scary bit of cinema.
10 Cloverfield Lane
Dan Trachtenberg's 10 Cloverfield Lane isn't a sequel in the traditional sense, as it partially serves to introduce Cloverfield as an anthology series instead of being a follow-up to Matt Reeves' Cloverfield, but it's absolutely fantastic nonetheless. It's certainly not a large scale feature, focusing almost entirely on Mary Elizabeth Winstead, John Goodman, and John Gallagher Jr. together within a bomb shelter, but that just translates to wonderful claustrophobia and paranoia – with the characters never quite knowing if they can trust each other. It's the newest feature on this list, but will surely be enjoyed for many years to come.
The Texas Chainsaw Massacre 2
To this day, Tobe Hooper's The Texas Chain Saw Massacre remains one of the scariest things ever put to celluloid – and while the sequel isn't quite as utterly terrifying, it certainly is completely batshit insane. The gore in Hooper's The Texas Chainsaw Massacre 2 is so over-the-top that it becomes basically comedic, with chainsaws just ripping through various characters, and the always-entertaining presence of the dearly departed Dennis Hopper. "It's the devil's playground" indeed.
Gremlins 2: The New Batch
As a follow-up to one of the best creature features of the 1980s, Joe Dante's Gremlins 2: The New Batch really had the cards stacked against it, but if you can lean into what the sequel does and appreciate it for what it is, it's actually a blast. Admittedly the film focuses less on the horror angle than its predecessor, instead going for a more cartoon-y vision, but like Wes Craven's New Nightmare and Scream 2, it has a really wonderful meta quality, specifically one that that comments on Hollywood's love of sequels. It's a super weird movie, but also a smart and clever one.
Final Destination 5
In crafting a horror movie about death's obsession about not letting an opportunity slip by, the original Final Destination stumbled upon something wondrous – which is basically the establishment of sequences that operate as Rube Goldberg murder machines. On the whole, the franchise does a modest job of this, with the first three sequels ranging from mediocre to awful, but director Steven Quale's Final Destination 5 is a legitimate treat. Not only are the death scenes amazing and shocking, but it also has a fantastic twist ending that will gleefully going back to pick up on all of the little hints and clues that you missed the first time around.
Halloween III: Season of the Witch
Before you scoff, hear me out. Director Tommy Lee Wallace's Halloween III: Season of the Witch has a tainted reputation mostly because it is the only entry in the Halloween franchise that doesn't feature Michael Myers. Divorcing the film from this association, however, it's actually pretty great. Sure, the plot is utterly ridiculous, involving masks that are cursed with fragments from Stonehenge, but it's a fun adventure that winds up having a pretty killer ending. And as a bonus, you get to have the Silver Shamrock song stuck in your head!
Your Daily Blend of Entertainment News
Assistant Managing Editor
NJ native who calls LA home and lives in a Dreamatorium. A decade-plus CinemaBlend veteran who is endlessly enthusiastic about the career he's dreamt of since seventh grade.