7 Star Wars Prequel Characters That Are Actually Great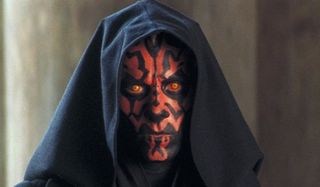 Before Return of the Jedi, most Star Wars fans could agree on almost everything. The first two Star Wars films were universally praised for their technical innovation and great storytelling. Subsequently, most fans found fault in Jedi mainly because of the Ewoks. It seemed that George Lucas was really beginning to cater to Star Wars merchandising possibilities targeted squarely at kids.
Then came the polarizing prequel trilogy. And all hell broke loose.
In 1999, practically every Star Wars fan was optimistic that the saga was really going to continue. Sure, Lucas had tinkered with the original trilogy by adding new digital effects, but that wasn't the worst offense. Maybe it fell apart when you started reading about blockades and Trade Federations, or perhaps it was the moment Jar-Jar Binks appeared on screen ("Mesa Jar-Jar Binks"). Bottom line, the prequels felt different than the original trilogy.
Let's forget prequel trilogy bashing for a moment. We all know its faults. Lucas might not have given these new characters the best lines, but he did come up with some worthy successors to his original galaxy far, far, away. Ultimately, time, and a new generation of Star Wars fans will judge the merits of the prequel trilogy.
It's time to take another look at some prequel characters that kind of rocked out.
Supreme Chancellor Palpatine
Ian McDiarmid's Emperor in the original trilogy wasn't explored much. He didn't have to be. You knew he was evil. You knew that he controlled Darth Vader (the fallen Jedi, Anakin Skywalker). While the prequel trilogy didn't explain the Emperor's motivations other than wanting to rule the galaxy, it did provide an interesting arc for his alter ego, Senator Palpatine, who eventually wormed his way into a position as supreme chancellor. It is as Supreme Chancellor Palpatine in Revenge of the Sith that McDiarmid's performance rises above all others. He seems to be the only actor in the prequels who can take Lucas's lines and make them sound almost like poetry. Almost. Everything prior to his transformation into the over-the-top Emperor was pitch perfect.
Obi-Wan Kenobi
Nothing against Sir Alec Guinness's classic OT (Original Trilogy) performance, but Ewan McGregor gave us more of the character to love. In Star Wars, he was a wise sage, a disembodied voice. A walking Force ghost. In The Phantom Menace, McGregor's Obi-Wan was a brash, energetic Jedi padawan learner who ended up cutting Darth Maul in half. Attack of the Clones, the second installment of the prequel trilogy, might have been panned for its love story, but Obi-Wan's Jedi gumshoe assignment, to unravel the mystery of the clone factory was definitely the highlight of the movie. Even a so-so script couldn't keep McGregor's charm from shining through. Oh, and his scenes in Revenge of the Sith were great to watch. Particularly his battle against former student (and friend), Anakin Skywalker.
CG Yoda
Puppet Yoda was incredible (and believable) from the moment he arrived on screen. Luke's training on Degobah in The Empire Strikes Back, is arguably one of the film's most memorable scenes. Thanks in part to Frank Oz's vocal talents and his uncanny ability to make us forget we're actually watching a puppet. But let's show a little love to CG – prequel era – Yoda. Because this Yoda (still voiced by Frank Oz) gave us a taste of what the Jedi Master's lightsaber skills were in his heyday, and as such, CG Yoda was definitely a highpoint of the prequel trilogy. His showdown against the Emperor/Darth Sidious was riveting. While the wall-to-wall CGI in the prequel movies seems to be aging less gracefully than expected, CG Yoda still works.
Qui-Gon Jinn
We are first introduced to Obi-Wan Kenobi's master, Qui-Gon Jinn (Liam Neeson), in The Phantom Menace. Unfortunately, it's the last we see of him (if you don't count the Clone Wars TV show). Despite an uneven script, Lucas did manage to give you a sense of Qui-Gon's character. He's a bit of a rebel, a follower of the "Living Force," and without his urging, Anakin Skywalker would never have left Tatooine and become a Jedi. Pretty important stuff. Overall, Neeson's portrayal of the Jedi Master worked. He might have been underutilized at times, but Quin-Gon Jinn's a pretty cool character in the Star Wars universe.
Darth Maul
Whatever your personal feelings about The Phantom Menace, nearly everyone can agree on one awesome moment in that film: Darth Maul revealing a double-bladed lightsaber and the ensuing battle. He had very few lines, but his actions truly spoke much louder than anything words Lucas could have shoved in his mouth. Visually, he's a great character. Maul's defeat of Qui-Gon Jinn set into motion the necessity for Obi-wan to eventually train Anakin Skywalker. If there was ever a more kinetic character on the silver screen you'd be hard pressed to find one.
Mace Windu
Before Samuel L. Jackson, slipped into the Mace Windu Jedi robes, there was no such thing as a purple lightsaber. In fact, so far as we know, Mace Windu's the only Jedi that's going to ever have one. The prequel trilogy gave us enough scenes with Jackson to understand his no-nonsense approach to things. His distrust of Anakin from the beginning. His superior lightsaber skills. Chances are if Anakin hadn't interrupted, Mace might have taken Darth Sidious down. As for Star Wars lore, Mace Windu is second only to Master Yoda in skill level. Plus, he killed Boba Fett's father.
The Clone Troopers
We can't have a Clone War without the Clone Troopers. Granted, the Clone Wars television series really gave audiences a better idea of what these men were like under the helmet, but the prequels did give us a sense of what the Clone Troopers could do. Supreme Chancellor Palpatine/Darth Sidious orchestrated the production of a clone army and eventually set them against the Jedi they were sworn to protect. The Clone troopers were the executors of Order 66, which makes them pretty essential to the overall Star Wars universe.
Your Daily Blend of Entertainment News