George Lucas Was Terrible At Predicting The Future Of Star Wars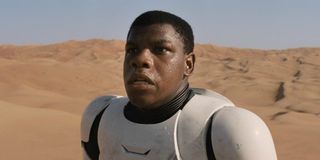 It turns out that George Lucas really did think that the final instalment to the Star Wars tale was Return of the Jedi. An interview with the iconic filmmaker from May 2008 has revealed that George Lucas didn't have any plans to make Episodes VII-IX. Which probably explains why J.J. Abrams was hired to add to the franchise.
George Lucas made these remarks during an interview with Total Film [shared via the Twitter feed of Cinephilia & Beyond] over five years ago. And now that the first trailer for Star Wars: The Force Awakens has got everyone heated up about the franchise once again, his contradictory statement has started to make the rounds on social media. After being asked, "Are you happy for new Star Wars tales to be told after you're gone?" George Lucas was pretty adamant that there wouldn't be any further adventures set in a galaxy far, far away …
Unless the impending release of Star Wars: The Force Awakens is set to be the most expensive practical joke in human history I think we can all assume that at some point over the last five years or so George Lucas had a slight change of heart. Having reduced his creative role for the seventh installment to the series, George Lucas has now handed the reigns over to J.J Abrams, who is not only directing the blockbuster but is also producing it alongside Kathleen Kennedy and Bryan Burk (and co-writing the most recent draft with Lawrence Kasdan). Various rumors surrounding the hugely anticipated sci-fi epic have also teased that Darth Vader might appear in the film in some form. Which when you consider the fact that Harrison Ford, Carrie Fisher, Mark Hamill, Anthony Daniels, Peter Mayhew and Kenny Baker are all returning wouldn't be too much of a shock. You know, except for the fact that he died at the end of Return of the Jedi – but no doubt his force/presence will be felt at some point.
In a way, I can't help but feel sorry for George Lucas. Not only has he created arguably the most beloved franchise in cinematic history, but he also helped to guide cinematic special effects into new and extraordinary territories along the way. But rather than being revered as one of the greats of modern movie-making, his status consistently seems to be diminished because of his meddling with the Star Wars franchise. And if J.J. Abrams' Star Wars: The Force Awakens is both a critical and financial success it will only increase the scorn shown to George Lucas. Don't get me wrong. He hasn't helped himself with some of his bizarre decisions. I mean, we all know that Han shot first. But all the joy he has brought to cinema-goers should still be the first thing that we think of when George Lucas' name is mentioned. Instead, it is all of the minor quibbles that he has generated since. Which is a shame, really.
Your Daily Blend of Entertainment News