7 Utterly Bizarre Golden Globes Nominees The Oscars Later Ignored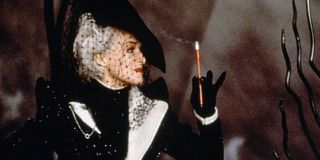 Every December, various guilds and associations publish their nomination lists, and apart from the occasional deviation here or there and a few swap outs, there's usually a pretty standard group of films, actors and actresses the choices are pulled from. The SAG nominations, for example, usually match the Oscar picks almost exactly, with maybe one or two places swapped out for reasonable dark horses. The Golden Globes, however, are a complete wild card.
The Hollywood Foreign Press has a long history of playing fast and loose with its picks. Whether because it's interested in having high profile celebrities in mediocre movies attend the big night or because it wants potential viewers to have actually seen many of the films or because voting members just like throwing some curveballs, there are almost always a few selections no one saw coming. Beyond that, there are always a few selections that don't even seem to be in the right category. This year is no exception either. From August: Osage County in the comedy/ musical category to Despicable Me 2 for best animated film, the headscratchers abound, but luckily, these weird Golden Globe impulses rarely have a big effect on the Oscar race.
As long of a history the Globes has of not following reason, the Oscars has just as long of a history saying thanks but no thanks to the Globes' recommendations. So, if you're terrified about The Croods being honored on Oscar night or worried Kate Winslet will somehow steal a Best Actress slot for a film no one is talking about, rest easy. It's probably not going to happen.
Let's take a look back at some of the strangest decisions the Golden Globes made over the past few decades, none of which had any impact whatsoever on the Oscar race.
Glenn Close For Best Actress In 101 Dalmatians
Remember 101 Dalmatians? No, not the 1961 Disney version that people really like. The 1996 live action remake that's currently sitting at 39% on Rotten Tomatoes. Well, apparently members of the Hollywood Foreign Press loved it because they gifted legendary actress Glenn Close with a nomination for her aggressively mediocre take on the classic villain Cruella de Vil. She lost, thank Dalmatian coats, but that doesn't change the fact that her honor snubbed out other worthwhile candidates who gave better efforts in movies that were watachable.
The Oscars wound up choosing Frances McDormand, Kristin Scott Thomas, Diane Keaton, Emily Watson and Brenda Blethyn, and Glenn Close was left on the outside looking in. Fortunately for her, she's been nominated for six Academy Awards; so, it's not like she needed a hat tip.
Burlesque For Best Picture (Comedy Or Musical)
Every year, the Golden Globes nomination committee feels compelled to look very hard at any and all musicals that make money, if for no other reason than to justify the comedy or musical category's name. Usually, they're able to hold common sense enough to not nominate ones that aren't at least decent, but the process broke down in a big way when Burlesque was nominated for Best Picture (Comedy or Musical). God only knows why that seemed like a good idea, but one would imagine having a television friendly table filled with Christina Aguilera, Cher and the dude from Grey's Anatomy was a very positive side effect of the decision.
Despite expected nominations for Best Original Song, the film was entirely left out in the cold by the Academy Awards, probably because voters hate giving love to anything from films they don't particularly like. Even worse, this was one of those random years where the Academy honored 10 Best Pictures; so, it's not as if people thought it was anywhere close to the best of the best.
Hugh Jackman For Best Actor In Kate And Leopold
I love me some Hugh Jackman. He's been nominated for numerous well deserved awards for a ton of brilliant turns in various brilliant movies. I also love me some romantic comedies. If it's about people falling in love, I'll gladly watch it and I'll probably defend it as being better than it objectively is. But Kate & Leopold? No. Best case scenario that movie is marginally passable in an off-beat, crazy premise sort of way. My wife bought it in one of those $5 dollar bins five or six years ago, and I still wish we could get that money back.
Jackman's performance got no love whatsoever from the Academy, and the only nomination the larger film got was for Best Song. Because, well, who wouldn't vote for Sting? For the record: Denzel took home Best Actor that year.
Salmon Fishing In The Yemen For Best Picture (Musical Or Comedy)
Over the years, the Globes have trotted out a lot of nominations I've disagreed with, but few, if any, have ever puzzled me more than this one. Released at the Toronto International Film Festival all the way back in September of 2011 and held until March of 2012 for a conventional release, it made a little more than thirty million at the box office and quietly disappeared until it was strangely rewarded with a bunch of Golden Globe nominations, including this one for Best Picture. It didn't win anything, obviously, but considering the studio wasn't even confident enough to give it a real awards season push, something tells me all involved gladly took everything they could get.
Salmon Fishing In The Yemen wasn't nominated for anything else. Anywhere, except People's Choice at the European Music Awards. If you're interested, check out the book. It's way different.
Jim Carrey For Best Actor In Liar Liar
Jim Carrey is a way better actor than people give him credit for. To this day, I think he was screwed out of deserved Oscar nominations for Man On The Moon and Eternal Sunshine Of The Spotless Mind, but Liar, Liar is a better example of the worst Carrey has to offer than the best. He tries to bowl over that entire movie with his aggressive, no holds bar schtick, but the film is ultimately worse because of it. In retrospect, the Hollywood Foreign Press would have been way better off giving a thumbs up to Dumb & Dumber than it would have the frustrating Liar, Liar.
The Oscars had nothing to do with Carrey or the larger film, obviously. The Globes, however, have nominated Carrey a ton of times for a wide variety of things from The Mask to The Truman Show, the latter of which Carrey could conceivably gotten an Oscar nomination for too.
The Tourist For Best Picture (Comedy Or Musical)
The Tourist is not a comedy or musical. More importantly, it's also not very well liked by anyone. In fact, it's so otherworldy horrendous that its choice for a Best Picture nomination at the Globes in 2010 almost completely let Burlesque off the hook. In comparison, that one, which is also on this list, seemed downright sensible. In fact, host Ricky Gervais openly mocked the nomination during the actual ceremony itself, taking shots at the Hollywood Foreign Press for even considering the work.
The movie was nominated for absolutely nothing of note in any categories other than the three major nods it got from the Hollywood Foreign Press.
Scarlett Johansson For Best Actress In A Love Song For Bobby Long
Why? No one saw A Love Song For Bobby Long, which, given it stars John Travolta, tells you almost all you need to know. Those who have, almost universally agree it's kind of a hot mess. Many awards shows, not just the Globes, fall into the trap of overpraising talented people when they're decent in mediocre movies. If someone's performance isn't good enough to make the larger effort at least above average, he or she shouldn't be nominated for anything. And that's one hundred percent the case here.
A Love Song For Bobby Long earned no major nominations for any other awards, and the film has been all but forgotten in the years since.
Enthusiastic about Clue, case-of-the-week mysteries, the NBA and cookies at Disney World. Less enthusiastic about the pricing structure of cable, loud noises and Tuesdays.
Your Daily Blend of Entertainment News
Thank you for signing up to CinemaBlend. You will receive a verification email shortly.
There was a problem. Please refresh the page and try again.