8 Great Summer Movies You Probably Didn't See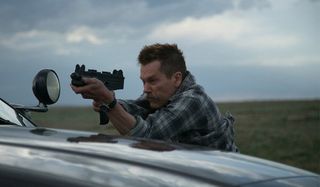 Especially when compared to the box office season last year, 2015 had an incredible number of big hits this summer. From The Avengers: Age of Ultron, to Jurassic World, to Minions, most of the major blockbusters have been doing insanely well around the world, and raking in the big money. But while audiences flocked to certain major films, other titles were ultimately ignored, despite have huge buzz and great reviews. We're here to try and help that imbalance.
Now that August is close to coming to a close, we've decided to take a look back at the last few months and bring to your attention many of the amazing smaller films that audiences didn't turn into gigantic hits this past summer. Read on!
Far From The Madding Crowd
Release Date: May 1st
Major Direct Competition: The Avengers: Age of Ultron
This is the kind of movie that usually finds buzz coming out during the height of Oscar season, but it got a bit buried at the start of this summer due to being the counterprogramming option to Joss Whedon's The Avengers:: Age of Ultron. But just because Thomas Vinterberg's Far From The Madding Crowd didn't get the same kind of headlines as the Marvel Studios film doesn't mean that it's not a movie worth finding a way to see. Obviously it helps if you have a proper temperament and appreciation for period dramas, but the truth is that the film is a wonderful adaptation of the Thomas Hardy novel of the same name. It's a wonderful Victorian love story anchored by not only another excellent lead performance from Carey Mulligan, but also great turns from the three men who wind up falling in love with her: Matthias Schoenaerts, Michael Sheen, and Tom Sturridge.
Slow West
Release Date: May 15th
Major Direct Competition: Mad Max: Fury Road, Pitch Perfect 2
It's understandable why movie-goers might not show up for a film called Slow West - even if it does star the great Michael Fassbender and Kodi Smit-McPhee. After all, the title and the movie's indie festival path to distribution give the impression that it might just be a meditative, molasses-paced Western with little mainstream appeal. This could not be more wrong. Despite its title, the feature is actually a surprisingly fun and funny adventure that sees a young, largely helpless young man (Smit-McPhee) and an outlaw (Fassbender) travel the U.S. countryside on a journey to reunite the young man with his love – all while bounty hunters mysteriously eye every move they make from afar. It's a great little surprise, and an experience best gone into with little prior explanation – so I'll just add that it's a film you should hunt down.
Love & Mercy
Release Date: June 5th
Major Direct Competition: Spy, Insidious Chapter 3
Hollywood scored big on the music biopic front this summer, with Straight Outta Compton absolutely destroying at the box office. But while that movie also received a warm reception from critics, it's still arguably on the second best music biopic to come out this year. This is because the summer of 2015 also brought us Bill Pohlad's Love & Mercy, the dual-timeline story of Beach Boys lead singer Brian Wilson. Portraying the famed musician at two drastically different times in his life, both Paul Dano and John Cusack put on some of the best performances we've seen from either of them, and if you're even remotely familiar with Beach Boys music then the soundtrack will just make your heart melt. It's a fantastically-made feature, and also perfect for anyone who needs to see more of Paul Giamatti being a corrupt manager after Straight Outta Compton.
Mr. Holmes
Release Date: July 17th
Major Direct Competition: Ant-Man, Trainwreck
Mr. Holmes is a slow movie. It features a main character in his 90s and a plot that slowly unfolds via fuzzy flashbacks. Consequently, it has less interest in keeping the viewer on the edge of his or her seat as it does in keeping the viewer intellectual stimulated. Who is this woman that caused a younger Sherlock Holmes to leave his detective career behind and why is her story so important to understanding who the legendary detective is? The answer to that question is every bit as fascinating as a traditional whodunit, and it's the perfect speed for actor Ian McKellen who offers a new layer to the beloved character—not exactly easy given how many times he's been played either. (Contributed by Mack Rawden)
The End Of The Tour
Release Date: July 31st
Major Direct Competition: Mission: Impossible – Rogue Nation
At its most basic level, James Ponsoldt's The End of the Tour is a film that simply follows two writers around as one of them wrap up publicity tour for his new and massively influential novel. This is obviously an easy approach to screw up, because it really doesn't take much time for things to go stale when all a movie is working with two guys and some dialogue – but from the moment the movie starts that idea never crosses your mind. In the best performance of his career thus far, Jason Segel does a stunning job bringing real author David Foster Wallace to life, but it's really his chemistry with Jesse Eisenberg's David Lipsky that keeps the audience constantly engaged with anything and everything the two characters have to talk about. You'll want to watch with a notebook to try and catch all the best pearls of wisdom.
Shaun The Sheep
Release Date: August 5th
Major Direct Competition: The Fantastic Four, Ricki and the Flash
Seeing as how Shaun the Sheep came out late in the summer – or, after Minions and Inside Out, at the very least – it's likely that the animated gem simply ran into parents whose wallets were too tapped out to spend on yet another night out at the movies for the whole family. Which is unfortunate, because much like Paddington from earlier this year, Shaun the Sheep is a simple but infinitely creative gem that appeals to all ages without ever pandering. Essentially a silent film, as well as a stop-motion project, the film has the dry humor we'd expect from the Brits (and the team behind Wallace & Gromit), as plenty of humor and heart as it tells the story of a sheep needing a vacation. You might be amazed at how emotional Shaun can be, often without needing to even say a word. (Contributed by Sean O'Connell)
Cop Car
Release Date: August 7th
Major Direct Competition: The Fantastic Four, Ricki and the Flash
Director Jon Watts has a lot of buzz surrounding his name thanks to the fact that he is Marvel Studios selection to direct the next big Spider-Man movie, but that's only part of the reason why you should check out his latest directorial effort, Cop Car. The better reason is the fact that it's a tremendously exciting work from a young filmmaker, and really a great watch both for its presentation and tone. The simple story of two kids who steal a car from a corrupt sheriff (Kevin Bacon), the film strikes a tone reminiscent of the Coen brothers, and it's just as darkly funny as it is darkly dramatic. It's told from the perspective of both the rambunctious kids as well as the law-breaking lawman, but really operates like a simply modern day Western with surprisingly high stakes and solid character development. Even if you don't really have an interest in seeing a peek into the future of Spider-Man, it's still very much worth seeking out.
The Gift
Release Date: August 7th
Major Direct Competition: The Fantastic Four, Ricki and the Flash
Yes, there were actually three amazing-yet-small moves released in competition with The Fantastic Four and Ricki and the Flash - and while Joel Edgerton's The Gift actually making a good chunk of change for its budget, it still deserves a wider audience. It doesn't feature any big explosions, car chases, or dinosaurs, but there were few movies released this summer that kept me on the edge of my seat for longer than this thriller. As a first-time director, Edgerton immediately proves himself as a very talented filmmaker, and the constantly evolving, perception-filled story keeps the audience constantly rethinking their predictions regarding what will happen at the end (I really guarantee that you won't be able to guess). It's really a must for any fans of Hitchcock-esque mysteries, and will very likely have movie-lovers dissecting the meanings and consequences of the finale for years and years.
NJ native who calls LA home; lives in a Dreamatorium. A decade-plus CinemaBlend veteran; endlessly enthusiastic about the career he's dreamt of since seventh grade.
Your Daily Blend of Entertainment News
Thank you for signing up to CinemaBlend. You will receive a verification email shortly.
There was a problem. Please refresh the page and try again.