9 Huge Things We Learned On The Set Of Vince Vaughn's Term Life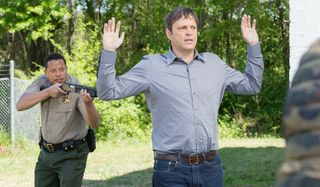 The Fulton Cotton Mill was once a bustling factory, but now much of its brick facades have been renovated to contain luxury condos that go for as much as $400,000 apiece. But there's something strange in this chic neighborhood--and it's not just the barrage of gunshots ripping through the serenity of this sunny spring day in Atlanta, Georgia.
At the center of the Mill stands the Stacks, a forgotten structure of brick and rusted metal, rich with decay, texture and production value. It's the perfect place to stage a climactic shootout with little need to set dress. And that's exactly where the finale of Vince Vaughn's crime thriller Term Life has found its home. Protectively shielding a frightened Hailee Steinfeld, Vaughn guides her through this maze of bricks and debris while dodging bullets from a seething Bill Paxton.
In between setups, a safety team assures us pack of reporters it's safe to snoop around. But looking up at metal staircases that lead to rust then nowhere, it's easy to feel like the first half of a 9-1-1 anecdote. Still, it's gorgeous in the way of rot, and it's in the cavernous former factory and its shadows that we sit down to talk with the film's director Peter Billingsley, his leading man Vince Vaughn and co-stars Mike Epps, Hailee Steinfeld, and Bill Paxton.
Here's what we learned on the set of Term Life.
The project was sparked by a comic book devotee. Term Life is based on the Nick Thornborrow comic. It's cover caught the eye of producer Micah Mason, who's previous worked with Vaughn on Couple's Retreat and The Internship. Mason was moved by the story about Nick Barrow, a crook who aims to survive the hits put out on him long enough to insure his daughter a fat insurance payout. And he felt it was a great fit for Vaughn's dramatic chops.
In the conversion from page to screen, some minor details were changed. For one, the location shifted from New York City to Atlanta. Russian mobsters were swapped for Mexcian gangsters. And the comic's nonlinear narrative has been smoothed into a linear form for the film.
Term Life brings together an unusual cast. Hailee Steinfeld plays Cate, the estranged daughter of Vince Vaughn, while Cecile De France--who'd recently wrapped--portrays his ex-wife. His old pal Jon Favreau swings in as Nick's criminal coordinator, who inadvertently gets him a gig that sets this ticking clock device. UFC heavyweight champion plays a tough guy that trounces Vaughn at the behest of his Mexican mob boss. Breaking Bad's Jonathan Banks plays a mentor of sorts. Taraji P. Henson sells the hero his titular life insurance policy. Boardwalk Empire's Shea Whigham plays a police officer, while Mike Epps and Bill Paxton are a duo of dirty cops.
Don't mistake this Vince Vaughn vehicle for a comedy. "It's really a real drama, a lot of killing, a lot of violence," Mike Epps warned us. Watching the Stacks gunfight scene setup again and again, he spoke to us about some of the actions scenes he'd been a part of already. "The tone of it is really, really straight drama, not a dramedy at all, you know, straight drama, real hardcore, corrupt violent cop movie."
But at its core this crime drama is about a dad and his daughter. As a father himself, Vaughn confessed that was a major draw for him. "What I really liked about the story was," Vaughn told us, "I liked the dynamic of the father-daughter relationship and I liked the complications of these relationships." For him, Term Life's take on this concept was unique, he explained, "It made for something that felt very fresh...which I think is nice."
The director and star have a long history together. Best-known as Ralphie from A Christmas Story, Billingsley has been working behind the scenes in film and television since the mid-1990s. He met Vaughn when the two were ingendudes tirelessly hitting auditions in Los Angeles. The two once co-starred in an afterschool special call The Fourth Man about the dangers of steroid abuse. (The two would later re-enact their scenes together on stage for Vaughn's Wild West Comedy Show.) From there a friendship and reliable collaborative team was formed.
Peter Billingsley is not directing this because of Couples Retreat. After the success of Swingers, Vaughn called Billingsley in to produce he and Favreau's follow-up Made. From there, Favreau brought Billingsley in to produce Dinner for Five, Iron Man, and Zathura. "Peter is really a filmmaker," Vaughn explained, "So even when we did Made, we were all in the editing room and we all would talk about stuff and take the journey together. That's always kind of been our relationship." Based on this, Billingsley was asked to helm Couples Retreat. Which was a modest financial success, if not a critical one. Essentially, their long history together made Vaughn believe Billingsley was the right director for Term Life, not the subpar comedy that began his film directing career.
Billingsley reveled in filming Atlanta. With the way sound bounced about the location, ambient sound and proper set lockdowns seemed like a bit of a nightmare. But Billingsley said they've been embracing these potential issues as the perks of shooting on location. "It's kind of a cool color," He offered, "We'll add in trains. There's a lot of trains, in some places planes. So I think it's cool and I think they'll play in the background a lot. We're set in Atlanta, so we're shooting Atlanta for Atlanta, which is very freeing. You don't have to point your camera elsewhere trying to change it to something…It's a very cool city." He explained how places like the Stacks bring a texture to the film that helps its world come alive as it is. "You walk in, point and shoot, and there's a lot of that in Atlanta too that we found."
Improv in rehearsals helped solidify the script. The action element of the movie was nothing to the True Grit star. But improvising in rehearsals certainly was. Hailee Steinfeld shared, "I was a part of an incredible process in LA, where we did a lot of rehearsals--Vince, Peter and I, and some of our producers, and Andy Lieberman, who wrote the script--where we would spend about 30 minutes talking about one scene. Then out of our conversation would come some improv, and then the scene would be rewritten in our own words. That's the first time I'd ever experienced anything like that."
Term Life is a family film for the Paxtons. It was Bill Paxton's last day on set, and he was living for every moment, cracking jokes with the crew and reminiscing about his start in Hollywood. But when it came to one bit of casting, the guy was positively bursting with paternal pride. "He auditioned," Paxton said of his son James Paxton, "And there's a nice part of the young man that Cate (Steinfeld) meets--when Nick and Cate are on the run, holed up in a motel. When all the nooses kind of tightening, there's that period where things are ok, not an immediate threat, but you can just feel that it's a false paradise for them, because they're getting to know each other. He plays a kid they meet and so it gives Vince a father-daughter moment, does he intervene or does he let his daughter talk to this strange kid. So, it was a nice little thing for him."
Paxton went on, "I would love to direct him in something. I realize I have nothing I can teach my children besides this business, but we kind of kept them out of it as children, but it's been a great business to me. I've gotten to do some cool things, you know. Had a lot of heartache and a lot of time out of work, but overall it's been pretty rewarding."
Term Life opens in theaters, on VOD and on Digital Download on April 29.
Staff writer at CinemaBlend.
Your Daily Blend of Entertainment News
Thank you for signing up to CinemaBlend. You will receive a verification email shortly.
There was a problem. Please refresh the page and try again.