Jon Favreau Joins Vince Vaughn Thriller Term Life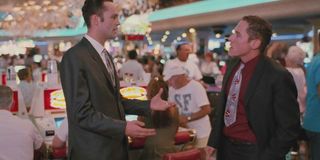 To movie buffs, Jon Favreau is easily recognizable. Why, that's the man who started the Iron Man franchise! Or, that's the guy who wrote and starred in Swingers! But the general public knows him as a "That Guy" actor, someone who pops up from time to time in a series of familiar comedic supporting roles. For being an in-demand blockbuster director, he's certainly got plenty of time to spend in front of the camera.
He'll be doing it again in Term Life, which reunites him with some familiar collaborators according to Yahoo. The film stars Favreau's Swingers buddy Vince Vaughn as a thief in charge of selling heist plans and details to the highest bidder. It's only when one such plan goes wrong that Vaughn must flee from criminals with his daughter, played by Hailee Steinfeld. The central drama revolves around a life insurance policy that Vaughn's character takes out in case of his death, to pass on to his daughter. The plan needs 21 more days to be active, however, which means 21 days of running from crooked cops, scheming criminals and unaffiliated hitmen. In case you were wondering how such an original, non-tentpole franchise came to be set up at Universal, think no more; the source material is a graphic novel by Nick Thornborrow and AJ Lieberman, the latter of which has written the script.
Favreau's role is not disclosed as of yet, though it will probably be a different dynamic than the one that appeared in Swingers and the Favreau-directed Made. This is being billed as a dramatic thriller with no comedic elements, meaning a return to the Vince Vaughn that was a scary, vulgar leading man, the one from the late aughts with a sliver of Robert Mitchum inside him. You wonder if this is the sort of environment to bring that back out of him: he looked weary and disinterested in The Delivery Man (and the audience followed suit), and he was similarly distant in Couples Retreat, directed by Peter Billingsley, who is also directing Term Life. And in case you were wondering, yes, that is the Peter Billingsley from A Christmas Story. He did not shoot his directing eye out.
Favreau has never been busier, having just debuted his new directorial effort Chef at SXSW, a film in which he also stars. He's also coming off a 2013 where he featured in three massive hits, popping up in Iron Man 3, The Wolf Of Wall Street and Identity Thief, proving that his character acting chops were not missing. Currently he's at work on The Jungle Book, his next directorial effort. Though we'll never get the days back where he and Vaughn fired rapid dialogue at each other at a breakneck pace in their youth. Here's a clip from Made to remind you. And kids... earmuffs.
Your Daily Blend of Entertainment News