Aaron Sorkin Is Here To Write The Best Poker Movie Since Rounders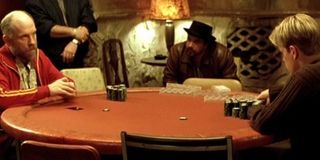 Aaron Sorkin certainly doesn't like to sit still does he? Having only just finished working on the script for his hugely anticipated Steve Jobs biopic, it has now been reported that The Social Network scribe plans on making the best poker movie since Matt Damon and Edward Norton took on a Russian mobster.
Aaron Sorkin is going to adapt Molly Bloom's memoir, Molly's Game, for the big-screen after the Mark Gordon Company optioned it for him. According to Deadline, Mark Gordon himself will produce the film, making it the second film that he and Aaron Sorkin are currently in pre-production on. He is also involved in the Steve Jobs biopic too. Molly Bloom seems like classic Sorkin fodder. She is clearly an educated and talented soul, because by the time she was 21-years-old she was already ranked No. 3 in North America in moguls. At the same time as this, she studied political science at a top college in the country and managed to maintain a 3.9 GPA. Which pretty much means that she'd be able to go toe-to-toe with The West Wing's Josh Lyman, CJ Cregg, Sam Seaborn and Toby Ziegler on any subject in the Oval Office while also managing to sell them socks.
But Molly Bloom's main passion came in the shape of skiing. She had mastered the art of the sport by her early teens, having been able to flourish in it from her infancy, and she was widely regarded as a world-class athlete in the field. However, she received a bitter blow when she wasn't called up to the Olympic team. At this point, after a few minor skirmishes with the law that were mostly related to drinking offenses, she decided to take a time-out from Colorado State University and wound up in Los Angeles.
This is where Molly Bloom's tale gets really intriguing. She then found herself assisting a real-estate mogul who also happened to run high-stakes poker games. Molly Bloom decided that she wanted a piece of the action and began to make her own connections with various A-list celebrities. Soon enough she was running her own game. Californian law dictates that poker is legal if played in private homes, but an individual can't organize a game and profit off it unless they are licensed and paying taxes. Molly Bloom was soon making up to around $400,000 a year thanks to her poker games, though, which reportedly saw the likes of Matt Damon, Tobey Maguire, Leonardo DiCaprio and Pete Sampras attend. (Radar has a terrific breakdown of Molly Bloom's exploits.) Three or four times a week she would hire ace dealers from local casinos, bring in sexy bottle-service girls, and only invite around eight people to gamble at a time.
Things soon started to unravel for her though as her relocation to New York wasn't as prosperous as she'd hoped and the IRS soon started sniffing around her taxes. Whether all of that is actually compelling enough to make a feature film remains to be seen. But if there is one man who can ring out conflict and personal drama from a seemingly mundane tale, then it is certainly Aaron Sorkin. We'll continue to report on the project as it develops.
Your Daily Blend of Entertainment News
Your Daily Blend of Entertainment News
Thank you for signing up to CinemaBlend. You will receive a verification email shortly.
There was a problem. Please refresh the page and try again.