Michael Fassbender May Join The Steve Jobs Biopic, Here's The Latest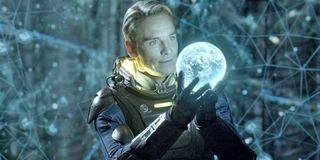 What a difference 12 days makes. After only being confirmed as Steve Jobs on October 23rd, Christian Bale pulled out of the role on Monday and seemingly left Aaron Sorkin's planned biopic in crisis. But don't fret, because Michael Fassbender is here to save the day. The X-Men: Days of Future Past star is now believed to be the front-runner to replace the Welsh actor.
Deadline is reporting that Michael Fassbender is now the number one choice to play Steve Jobs for writer Aaron Sorkin and director Danny Boyle. According to the publication's sources, the project wouldn't the affect the actor's X-Men schedule, meaning that there is potentially an availability. After the disappointment of Christian Bale's exit, it's believed that both Sorkin and Boyle are more than pleased to be able to get Michael Fassbender in as his replacement -and you have to admit that it isn't a bad substitution. Hopefully the allure of playing Steve Jobs, and the opportunity to work with Oscar-winning talent of Danny Boyle and Aaron Sorkin will seduce Michael Fassbender into accepting the role. If he rebuffs their advances, though, then the film might struggle to find somewhere worthy enough to portray the character.
Let's cross that bridge when we come to it, though, because it has already been a long and arduous casting journey for the untitled Steve Jobs biopic. Christian Bale was allegedly pursued on two separate occasions for the part, while Leonardo DiCaprio was also briefly considered as well. After the American Hustle actor agreed to portray the Apple icon, interest immediately began to grow. Casual moviegoers and cinematic aficionados alike started to internally fathom the work that Christian Bale would do as Steve Jobs, and as a result his casting was universally praised. Aaron Sorkin himself even came out and waxed lyrical about the thespian, announcing that he was the one man that they went for and that he didn't even need to audition. Unfortunately, Bale couldn't escape the nagging feeling that he wasn't right for the part. Yesterday it was then reportedthat he had withdrawn.
Over the last 24 hours whispers that Aaron Sorkin and Danny Boyle's film was in trouble then started to grow. But the fact that they have quickly addressed these concerns by simply approaching Michael Fassbender to play Steve Jobs should go a long way to silencing them. In a way, his casting could work out for the best too. Don't get me wrong - there is no denying Christian Bale's talent. In fact, his efforts in The Dark Knight,, The Machinist, The Fighter and American Hustle have been so immense that expectations of his Steve Jobs portrayal would have been meteoric. Michael Fassbender hasn't yet hit this level of recognition. Yes, he has put in sterling work in everything he has starred in, but his Magneto will always be compared to Ian McKellen's; 12 Years A Slave will mostly be remembered for being outstanding on every level not just because of his scene-stealing efforts; and Hunger, Fish Tank, and Shame, despite the fact that each of them were brilliant, didn't really reach a mainstream audience. Playing Steve Jobs, Michael Fassbender could truly wrap his acting prowess around an event movie and a recognizable character.
Your Daily Blend of Entertainment News
Your Daily Blend of Entertainment News
Thank you for signing up to CinemaBlend. You will receive a verification email shortly.
There was a problem. Please refresh the page and try again.