Aaron Sorkin's Lucille Ball Biopic? Here's What He Said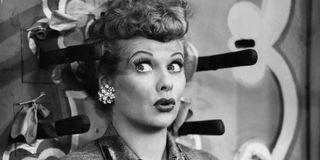 Aaron Sorkin, the man behind The Newsroom and the upcoming Steve Jobs biopic, was reported to be developing a script for a Lucille Ball biopic. The news was revealed earlier this month and Cate Blanchett of Carol and Truth was linked to the title role. However, it seems as though these reports jumped the gun a bit.
Cinema Blend caught up with Sorkin during the press junket for Steve Jobs, and he said that he isn't officially attached to the project. When asked about the project and which portions of the actress' life appealed to him, he said,
The Ball biopic will be produced by her children Lucie Arnaz and Desi Arnaz Jr., and the story will center on Ball's life throughout her marriage to Desi Arnaz, her co-star on I Love Lucy. The two would eventually divorce in 1960, after which Ball married Gary Morton, a producer on The Lucy Show and Life With Lucy.
Should Aaron Sorkin eventually decide to come aboard the biopic, it might not even be his next project. He said he just finished work on his script for a film about Molly Bloom, Hollywood's "poker princess" who ran the hottest game in town, until the FBI came knocking. The Mark Gordon Company optioned Bloom's Memoir, Molly's Game, back in 2014. Aaron Sorkin describes the project to us as follows:
Gordon, who's also involved with Sorkin's Steve Jobs, will produce this film adaptation as well.
Before debuting in theaters nationwide on October 23, Steve Jobs will hit up the New York Film Festival, followed by a limited release on October 9. Directed by Danny Boyle, from Sorkin's script heavily influenced by Walter Isaacson's biography of the same name, the film stars Michael Fassbender as the late Apple co-founder. His story is told through three acts, each one taking us behind the scenes of a specific product launch — the first Mac computer, the NeXT cube Jobs developed after leaving Apple, and the iMac launched after Jobs returned to the company. Kate Winslet portrays Joanna Hoffman, a close confidant of Jobs; Seth Rogen plays Steve Wozniak, Jobs' longtime collaborator; Jeff Daniels co-stars John Scully, former CEO of Apple; and Katherine Waterston is in the role of Chrisann Brennan, the mother of Jobs' child.
Stay tuned for more coverage on Steve Jobs closer to the film's release.
Your Daily Blend of Entertainment News
Thank you for signing up to CinemaBlend. You will receive a verification email shortly.
There was a problem. Please refresh the page and try again.