Why CBS Doesn't Like Robert Redford's Dan Rather Movie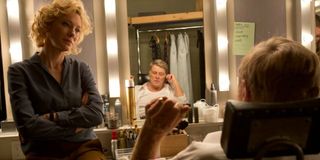 One of the big premieres at the 2015 Toronto International Film Festival was Truth. Starring Cate Blanchett as CBS producer Mary Mapes, and Robert Redford as 60 Minutes' Dan Rather, the film is based on Mapes' book about how she uncovered the prison torture at Abu Ghraib and was fired by CBS shortly after producing Rather's story on the George W. Bush National Guard documents. While Rather himself praised the film's accuracy, CBS President and CEO Leslie Moonves has a very different take.
A new article from The Hollywood Reporter was published today revealing that a special early screening of Truth was held for Moonves months before the TIFF premiere. Though CBS refused to comment on the matter, THR sources state that the CEO and his staff were heard at CBS headquarters calling the film "half truth."
Based on early reviews and reactions coming out of TIFF, Truth paints the network as the villain — Andy Heyward, a news chief, is shown firing Rather and Mapes out of solidarity to the White House and Bush, and to protect CBS. THR further notes that the attacks on Rather's report were overtly politically motivated and the involvement of the 60 Minutes anchor in the actual reporting was downplayed. Moonves did not ask for any major changes to the film, and a source also states that CBS isn't planning on lashing out at the film's distributor, Sony Pictures Classics.
Truth is pegged to be in the vein of All the President's Men and The Insider. It depicts the events that led to Mapes and Rather uncovering that a sitting U.S. president may have been AWOL from the National Guard for more than a year during the Vietnam War. The film is directed by first-time feature film helmer, James Vanderbilt, who has made a name for himself working on the screenplays for Zodiac, the Amazing Spider-Man movies, and White House Down. He also adapted the screenplay for Truth from Mapes' memoir. Cate Blanchett and Robert Redford are joined in the film by Elisabeth Moss (Mad Men), Topher Grace (Spider-Man 3), Dennis Quaid (Playing For Keeps), and David Lyons (Revolution).
Though the trailer isn't out yet, you can watch the first clip from the film below.
Truth will next hit up the Hamptons International Film Festival before making its way to theaters on October 16.
Your Daily Blend of Entertainment News