Actresses Are Asked To Get Naked Way More Often In These Countries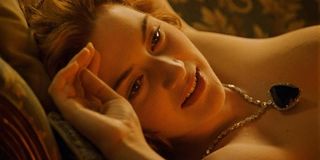 One of the sad but true natures of the film industry is that there exists within it a terrible gender bias. Not only are there not nearly enough female directors making movies, but actresses have also notoriously long been exploited, stereotyped, and sexualized. It's an issue that has persisted for far too long not only here in the U.S. but in foreign film industry as well – and now the Geena Davis Institute on Gender in Media is doing something about it.
The group has published a fascinating new study titled "Gender Bias Without Borders" that presents full statistical analysis of male-female roles in the film industry, and exposes some startling facts. It's a fascinating read, but one of the stand out figures is a country-by-country percentage measurement of how often female characters got nude in films:
Using a sample size of 120 global films from all of these countries that were released between January 1, 2010 and May 1, 2013, the study found that the highest percentage of female nudity occurs in German cinema, where 39.2 percent of female characters have "some nudity" included in their arcs. Right behind the European nation is Australia with 37.1 percent, and ranking third is India with 35%. The U.S./U.K. statistic – which is taken from films that were made as a collaboration between both countries – is the sixth highest on the list, while straight up Hollywood movies sit in seventh with 22.1 percent. As you can see in the table, the overall average basically says that a quarter of all female characters worldwide have a form of nude scene.
With the exception of India, it's interesting that the bottom of the list - which can be qualified with countries lower than 20 percent – is largely dominated by Asian countries. According to the statistics, Korea had the lowest percentage of nude female characters, with 10.2 percent (yes, nearly four times less than what's seen in German movies). This is followed by China, with just 13.9 percent, and then Russia with 19.4 percent. Japan is in the bottom five with 19.7 percent, but has a higher number than the U.K. (I guess that this means the U.S. is a bad influence on British filmmakers).
If you have a few minutes, I would definitely recommend giving the entire study a look, as it possesses some interesting information (though I do question exactly how they judge things like "attractive females," which seems to be a rather subjective element). We're going to keep digging through it ourselves and see what else we can find, so stay tuned!
Assistant Managing Editor
NJ native who calls LA home and lives in a Dreamatorium. A decade-plus CinemaBlend veteran who is endlessly enthusiastic about the career he's dreamt of since seventh grade.
Your Daily Blend of Entertainment News
Thank you for signing up to CinemaBlend. You will receive a verification email shortly.
There was a problem. Please refresh the page and try again.