These Are The Adam Sandler Jokes That Some Native Americans Are Mad About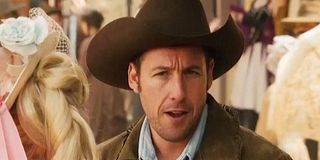 The controversy over the alleged offensive stereotypes strewn throughout Adam Sandler and Netflix's upcoming western-themed comedy, The Ridiculous Six, saw about a dozen Native American actors walk off the New Mexico set. Now the film's intentionally crass, incidentally contentious discourse has been revealed by way of a draft of the script.
A report from Defamer delves into a draft of the The Ridiculous Six script dated December 7, 2012 that reveals some of the repulsive repartee at the center of the strife. Here's a list of the insensitive infractions in question.
1) Sandler's character, Tommy, aka Three Knives, a white man raised by Native Americans since childhood is married to a woman named Smoking Fox. A recurring joke refers to her "sweet zum-zum."
2) A female character named Beaver's Breath, is propositioned by a male character, asking, "Hey Beaver's Breath." To which she responds, "How did you know my name?"
3) A "sexy" female character named No Bra (originally named Sits-on-Face in the 2012 script), is depicted crudely squatting to urinate behind a teepee while stereotypically lighting up a peace pipe.
4) Will Patch (Will Forte) propositions Sits-on-Face by asking her, "How about after this, we go someplace and I put my peepee in your teepee?"
5) Cicero (Danny Trejo) interacts with Sits-on-Face by calling her "Strawberry Tits," to which she indignantly corrects him, saying "I am Sits-on-Face." Cicero responds, "Well, then I'm Stiff-in-Pants!"
6) There are numerous instances of crudely-punned pseudo Native American names like Five Hairy Moles, One Eyebrow, and Four Pickles.
The report reiterates that this intel was taken from an older script and it is entirely possible that revisions may have mooted some of these scenes. However, some of the examples specifically involving Beaver's Breath and Sits-on-Face have already been discussed in numerous reports as points of contention. Overall, these scenes paint a broad picture of juvenile japes that might get a snicker, but could understandably come across as patronizing and offensive to the Native American actors who are made to carry out this proliferation of crude cultural misconceptions.
The film, co-written by Adam Sandler and his creative partner Tim Herlihy, has had its share of issues dating back a few years. In fact, The Ridiculous Six was apparently toxic enough that Warner Bros., the studio that backed some of Sandler's biggest hits, wanted nothing to do with the film. However, the film would eventually serve as a kick-off for the groundbreaking four-picture production deal between Netflix and Sandler.
While scenes in question are almost comical in their outmoded sensibilities, it's difficult to determine the course of their intentions. We know that we're talking about an Adam Sandler film, which makes it a dumb, raucous romp by default. It's a narrative that Netflix embraced in their recent public defense of Sandler, emphasizing the "ridiculous" aspect of the very title. In that sense, the structure of the stereotypes in the script sound so blatant that it is entirely possible that their idiocy is meant to be the joke itself, and that no specific malice was intended.
Regardless, it should be interesting to see how this production develops, especially considering that The Ridiculous Six could set the tone for Netflix's return on a huge investment in Sandler.
Your Daily Blend of Entertainment News