Adam Sandler's Western Comedy The Ridiculous Six Dropped By Warner Bros.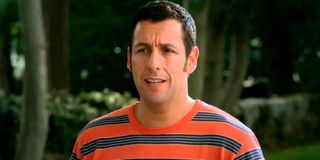 Hollywood studios have long scrambled to work with Adam Sandler, thanks to the financial success of such comedies as Grown Ups, Click and The Wedding Singer. However, it seems Sandler's star is falling, and Netflix might be to blame.
THR reports that Warner Bros. has just bailed on plans to make The Ridiculous Six, a comedy Western that Sandler was set to headline. The timing of this decision has some suggesting that Sandler's deal to make four films for Netflix was the death nail in a long-troubled project.
The Ridiculous Six deal between Warner Bros and Adam Sandler's production company Happy Madison has been in the works for months, and it's said a major point of discussion was the budget for this comedy Western. With Sandler committing to front and produce four films for Netflix, it's presumed his schedule abruptly filled up fast. Could this have pushed The Ridiculous Six so far into the future that WB lost interest? That's one possibility.
Another is that over the course of the months the The Ridiculous Six deal was being worked on, two comedies opened that may have shifted the scales of the film's expectations. For years, no matter how much critics have gnashed our collective teeth over Sandler's dopey comedies, they've largely thrived. But then came Blended. The Warner Bros rom-com reteamed Sandler with his Wedding Singer and 50 First Dates co-star Drew Barrymore, and yet the $40 million picture only took in $46 million domestic. Seth MacFarlane's comedy Western A Million Ways To Die In the West offered a similar underwhelming box office. So perhaps these figures killed Warner Bros' buzz for The Ridiculous Six.
My bet is it's all of the above.
This makes for the third studio to pass on The Ridiculous Six. Sony (Grown Ups 2, Hotel Transylvania) was the first to lay claim to the Sandler vehicle, but put it into turnaround in 2012. Paramount briefly pursued the project, but ultimately declined. And now so has WB. But while studios are shunning The Ridiculous Six, this might not be the end for it. After all, Adam Sandler is set to make four movies with Netflix. So, in a weird twist of fate Netflix might have been the killer of The Ridiculous Six as well as its savior. For now, Happy Madison has refused to comment on this possibility.
Netflix's bid to get into the Sandler business has caused a shakeup at studios. While neither WB nor Sony is willing to comment on whether The Ridiculous Six's new home may be Netflix, both studios have put out word they'd be happy to work with Sandler in the future. In the meantime, studios will be bringing us Sandler's Pixels, which will open July 24, 2015, and Hotel Transylvania 2, due to hit September 15, 2015. Sony is even threatening suggesting Grown Ups 3 could be in the works. Sounds like Sandler will be fine.
Staff writer at CinemaBlend.
Your Daily Blend of Entertainment News
Thank you for signing up to CinemaBlend. You will receive a verification email shortly.
There was a problem. Please refresh the page and try again.