Adam Scott Close To Joining Stiller, Wiig, And Oswalt In The Secret Life of Walter Mitty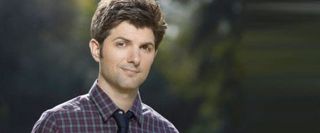 It looks like Parks and Recreation heartthrob Adam Scott could be the latest comedian to sign on to Ben Stiller's The Secret Life of Walter Mitty. Deadline reports that the charming TV star who first drew buzz on the woefully short-lived Starz sitcom Party Down, is in final negotiations to join the cast that already includes such comedy heavyweights as Stiller, Kristen Wiig, Patton Oswalt and Shirley MacLaine. Stiller, who will direct the remake of Danny Kaye's classic comedy, is also slated to take on the title role, a meek photo editor whose dreams of adventure come true after some film negative goes missing. There's currently no word on what role Scott will play.
Now, I'm a long-established Danny Kaye fan. His were the first movies from the Golden Age of Hollywood that I ever fell into, largely because they were so kid friendly with a silly and spirited humor that offered plenty of physical comedy. Conversely, I've been over Stiller and his mugging for years. I generally find him to be the least interesting aspect of most of his movies. But as the rest of the cast of The Secret Life of Walter Mitty begins to fill out, I must admit my hopes are rising for this surely broad comedy, even though I fear the actors I look forward to seeing will be relegated to minor supporting roles.
Sure, last summer Wiig proved her prowess as a leading lady with Bridesmaids, but women rarely factor into Stiller's films in a major way. So she's set to play a co-worker/love interest of Mitty's. Still, Wiig has proved an eye-catching supporting player in comedies like Walk Hard: The Dewey Cox Story as Dewey's naysaying wife. Then, it seems sure that Oswalt, who thrilled critics with his sly turn in the wickedly dark comedy Young Adult, will be likely sidelined, as could Scott, who has mostly landed only small roles in major comedies, like Stepbrothers wherein he played Will Ferrell's badgering brother. But hopefully, even in small parts, the exposure from The Secret Life of Walter Mitty will net these sharp comedic performers some meatier roles in bigger and better films.
In the meantime, you can see Scott as a lead in the coming-soon ensemble comedy Friends With Kids, in which Wiig appears opposite her Bridesmaids beau Jon Hamm. Then there's Bachelorette to look forward to. This Sundance comedy reunites Scott with his Party Down co-star Lizzy Caplan, which could whet fans appetites for a possible Party Down movie that's being buzzed about.
Staff writer at CinemaBlend.
Your Daily Blend of Entertainment News
Thank you for signing up to CinemaBlend. You will receive a verification email shortly.
There was a problem. Please refresh the page and try again.