Afternoon Awesome: Harrison Ford Rips The Head Off A Smurf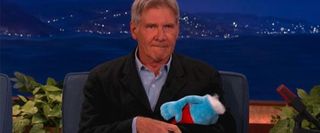 We learned two things this weekend. First, Cowboys and Aliens was not a great movie, but it was fun summer schlock that did its job entertaining the few who bothered to go see it. And second, way too many people went to see The Smurfs and every single one of them (you?) should feel disgusted and never be able to see a movie again. The upsetting thing about this weekend is not how little C&A made, it's how much The Smurfs made-- they each came in at the box office right around $36 million, with Cowboys barely ahead. And one Harrison Ford- -maybe you've heard of him--is none too pleased about the situation.
The Star Wars star made an appearance on Conan last night where he expressed his clear hatred for the tiny blue smurfholes that nearly knocked his movie out of the number one weekend spot. Check out the video below, and make sure to watch until the end--that's where the fun happens.
There are a lot of reasons to love Harrison Ford, and he has just added to that list. Not only is he a legend to everyone-- I mean he's Han Solo for God's sake--but he's old and cranky enough now that he doesn't have to tip toe on eggshells when he talks about other movies. He can speak his mind and people will just say "He's Harrison Ford. My argument is invalid." Seeing such a man literally rip the head off a Smurf, even a stuffed one, is a homerun for true film fans who are sick of seeing garbage beat good movies at the box office.
Do your service to the film world, spread the word about the virus that is The Smurfs and go see Cowboys and Aliens this weekend. Or really anything that isn't the damned Smurfs.
Your Daily Blend of Entertainment News