Agents Of S.H.I.E.L.D Actor Spotted On The Avengers 2 Set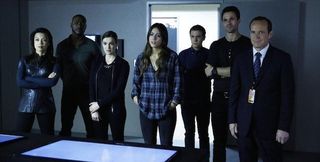 Spoiler alert: This article is loaded with spoilers from the first season of Agents of S.H.I.E.L.D.. If you're still getting caught up on the series and don't want to know some major details about the plot or the characters, read no further than the part where we tell you which member of the ABC drama's cast was reportedly spotted on the set of Avengers: Age of Ultron. And that's B.J. Britt, who plays S.H.I.E.L.D. agent Antoine Triplett.
Agents of S.H.I.E.L.D.'s connection to the Marvel cinematic universe has yielded some pretty great guest stars, Cobie Smulders (Maria Hill), Samuel L. Jackson (Nick Fury) and Lady Sif herself, Jaimie Alexander among them. With the first season wrapped up and a second season on the way, it seems only fair that the next Avengers film would borrow at least one of Agents of S.H.I.E.L.D.'s people. Fair is fair, right? A flurry of photos from the set of Avengers: Age of Ultron have made their way online this weekend, following production at the University of East Anglia campus in Norwich, UK. Little Laura's Film Blog posted a bunch of photos, one of which the site says captures B.J. Britt checking out a motorcycle. The photo that's posted shows two men eying the bike, but it's a bit too far away to verify who we're seeing by sight alone, so we're going with their eye witness account here.
Assuming this is an indication that Britt is going to be making an appearance in Avengers: Age of Ultron, it's an exciting update on the movie and the actor's Agents of S.H.I.E.L.D. character, who also happens to be the grandson of Howling Commando. Triplett's arrival on S.H.I.E.L.D. happened right around the point that the show started to get really good. That was aided in part by the game-changing events that occurred in Captain America: The Winter Soldier, when Hydra emerged and caused S.H.I.E.L.D. to virtually implode. Triplett's first appearance happened a few episodes before that.
For those who haven't been watching S.H.I.E.L.D. and don't care about being spoiled, Antoine Triplett was one of the agents working under Agent Garrett (Bill Paxton), who turned out to be a power-hungry Hydra supporter. Triplett was not Team Hydra and had no idea of Garrett's allegiance to the organization. Though he was Garrett's man when he arrived on Agents of S.H.I.E.L.D. (during the second half of the first season), Triplett remained with Coulson's team following the events of Winter Solider and has proven to be a trustworthy and resourceful ally. If it's true that he's going to be featured in Avengers: Age of Ultron, I'm hopeful that this is related to a tie-in with the ABC series and that it isn't an indication that Triplett is going to be shifting to some other area of the Marvel universe and away from Agents of S.H.I.E.L.D.. It'd especially be great if he becomes a permanent member of Coulson's team in Season 2. Here's hoping, anyway!
Meanwhile, what about Agent Coulson? The first Avengers movie killed Coulson off. It seems only reasonable that Clark Gregg's character would return in the sequel, especially considering how devastated the Avengers were over his death. Alas, reports continue to suggest there won't be a Coulson appearance in Age of Ultron -- or at the very least, that there hasn't been confirmation of one -- as Movie Pilot has Clark Gregg very recently on record as saying that he doesn't think he's going to be in the sequel. "I think I would have heard about it by now," Gregg told the outlet. "But I must say as a qualifier, the only way I ever hear about stuff like that is I get a weird phone message with not the right number of numbers on it and somebody says, 'We need to talk to you.'"
So, at the very least, it doesn't sound like Coulson's confirmed to appear in the movie. But production is still underway, so who knows? Maybe he'll get that call.
Photo Credit: ©ABC
Assistant Managing Editor
Kelly joined CinemaBlend as a freelance TV news writer in 2006 and went on to serve as the site's TV Editor before moving over to other roles on the site. At present, she's an Assistant Managing Editor who spends much of her time brainstorming and editing feature content on the site.
Your Daily Blend of Entertainment News
Thank you for signing up to CinemaBlend. You will receive a verification email shortly.
There was a problem. Please refresh the page and try again.