Air's New Soundtrack For Melies' A Trip To The Moon Getting Released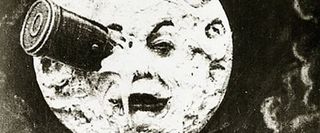 Crossover between the music industry and the movie industry is hardly anything new. Hell, there's an entire soundtrack business predicated on such-and-such hot artist contributing such-and-such new song to such-and-such new movie. Normally that new part is important, however. Not so for French electronic musical group Air. The group, which has previously done music for movies such as The Virgin Suicides and Lost in Translation, has cast its eyes toward the past for a new project. According to The Playlist, Air spent a year composing a new score for Georges Méliès' classic silent film, A Trip to the Moon, and now that score is being released this February courtesy of Astralwerks.
If your film history is a little rusty, A Trip to the Moon is one of the most famous silent films of all time. Even if you've never seen it, you've almost certainly seen the imagery up top of the moon with a rocket lodged in its eye. Air's score premiered, along with a restored version of A Trip to the Moon, at the Cannes Film Festival last spring. Air has since expanded the score into a full album, which will drop February 7th. You can watch/listen to a sample below:
This is what Nicolas Godin, one half of Air, had to say about the project in a statement: "A Trip to the Moon is undoubtedly more organic than most of our past projects. We wanted it to sound 'handmade,' knocked together', a bit like Méliès' special effects. Everything is played live…like Méliès' film, our soundtrack is nourished by living art."
This isn't the first time a classic silent film has received a swanky new soundtrack. Fritz Lang's Metropolis has been rescored several times over the years, including a pop-star-heavy version for the 1984 rerelease, which included the likes of Pat Benatar, Loverboy, and Freddie Mercury.
Your Daily Blend of Entertainment News
Thank you for signing up to CinemaBlend. You will receive a verification email shortly.
There was a problem. Please refresh the page and try again.