Alfonso Cuaron Is The Best Director Oscar Winner For Gravity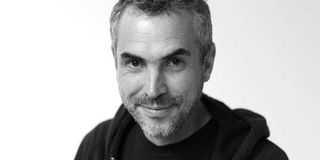 There seemed to be very little doubt on who would win the Best Director Oscar, and ultimately it was Gravity helmer Alfonso Cuaron who took home the big prize. The ace filmmaker defeated a murderer's row of filmmakers to earn the gold at the 86th Annual Academy Awards, justifying years spent developing Gravity from a mere sliver of an idea into a $700 million juggernaut. Thanking the production team, collaborators like Guillermo Del Toro and ultimately his wife, Cuaron made a touching speech where he lived up to his promise to stumble over pronunciations with his eccentric, charming accent.
Gravity traveled through two administrations at Warner Bros., struggling to earn a greenlight as Cuaron pitched a $100 million thrill ride primarily through the eyes of one superstar. Originally that would be Angelina Jolie, with Robert Downey Jr. providing the support, but none of the parties involved expected a daunting technical process that basically involved the invention of entirely new technology.
Cuaron has previously spoken candidly about the harsh career of a filmmaker following his muse. Commercial failure led him to make the low budget Y Tu Mama Tambien, which earned him the greatest critical support of his career, but left him essentially unemployed and broke. A trip to Hogwarts led to Harry Potter And The Prisoner Of Azkaban, a movie that gave Cuaron his biggest film yet, and an eternal job in Hollywood. And while Children Of Men earned three Academy Award nominations, he didn't receive a Best Director nod, a decision that much of the industry considered a mistake.
The Mexican filmmaker defeated a group that included 12 Years A Slave helmer Steve McQueen and American Hustle nominee David O. Russell, each of whom were potential contenders. Also nominated was Alexander Payne for Nebraska, his sixth Oscar nomination, and Martin Scorsese, who brought us The Wolf Of Wall Street. Tough crowd. Hard to beat that. Cuaron's achievement just adds to the phenomenal success of the film, which has collected hundreds of millions of dollars worldwide and has essentially given Cuaron a blank check throughout the industry. He hasn't decided what his next project will be, but it will be a hot ticket, no matter what it is.
Your Daily Blend of Entertainment News
Thank you for signing up to CinemaBlend. You will receive a verification email shortly.
There was a problem. Please refresh the page and try again.