Alfonso Cuaron Offered The Shining Prequel 'The Overlook Hotel'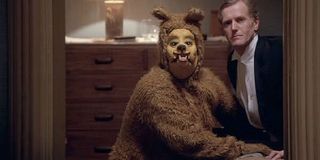 A few days ago, there was speculation that Alfonso Cuaron would be a potential director for Fantastic Beasts, And Where To Find Them over at Warner Bros. But there's a very strong chance the WB also want him for another project, if reports are true. How would you like to see Alfonso Cuaron attempt the unthinkable and make a prequel to a film by Stanley Kubrick?
SchmoesKnow is reporting that an offer is out for Alfonso Cuaron to direct The Overlook Hotel, a prequel to The Shining. No plot details have been released, but it's believed that the script is from former The Walking Dead showrunner Glen Mazzara. The powerful screenwriting team assembled for this movie includes Laeta Kalogridis (Shutter Island), Bradley Fischer (Zodiac) and James Vanderbilt (The Amazing Spider-Man). With both Beasts and Overlook on the table, Cuaron might select one, both or neither films to helm, as he's basically got a blank check after Gravity grossed $716 million worldwide.
It's a little depressing to see Cuaron use his newfound success and freedom to just jump right back into franchises, though. And is this really the best idea? The guess is, this would be more in-tune with Kubrick's movie than Stephen King's original book. King didn't much care for the movie, which has gone on to earn plaudits as the greatest horror movie of all time. (Up for debate, of course!) But he did write an unusued prologue for The Shining called Before The Play. Still, it's hard to trust King's judgment since his dislike for the original movie led him to call up old buddy Mick Garris to make a sanitized, and therefore sane adaptation of the book as an ABC TV miniseries. Even if you haven't seen this misstep, you know that The Shining should be a lot of things. Sane isn't one of them.
But on the other hand, a prequel to The Shining isn't like a prequel to, say, Star Wars or The Thing. There aren't exactly choice puzzle pieces that need to fit into place. If the script has ambition, The Overlook Hotel could be a blank slate for any filmmaker with a bit of imagination. Just take a look at Doctor Sleep, King's recent sequel to the book that is almost a completely different genre. The Shining works as a jumping-off point to a lot of creativity. The question is, does the WB view it like that? Or do they only see the dollar signs that come from the generations of viewers who enjoyed The Shining in theaters, on VHS and DVD?
Maybe Cuaron drops this and it ends up being unwatchable hackwork from someone else. Or maybe Cuaron's imagination is allowed to roam, and he makes something that is able to define itself separately from both the Kubrick and King versions of the story. Fingers crossed.
Your Daily Blend of Entertainment News