Alicia Keys Is The African Princess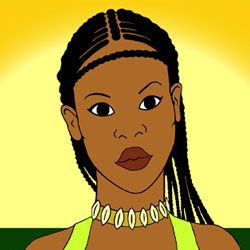 Apparently Disney isn't the only animation studio pushing for an African-princess character. They announced last year that the lead of their movie The Princess and the Frog would be their first African character, with Anika Noni Rose voicing the character. Now Imagine Pictures in on their tail with The African Princess and a princess of their own: Alicia Keys.
A press release from Imagine Pictures has announced that Alicia Keys will voice the lead character of The African Princess, Princess Zya. The young African princess loses her family and is displaced without her memory, but her childhood companion Neebo, helps her remember her heritage and rise up to lead her kingdom.
The press release goes a little overboard about the picture, talking about how supporters are already proclaiming it a beautiful and enriching tale, destined to go on to be one of the greatest animated films of the century, and that the picture is already receiving tons of support and invitations to film festivals across the country. Odd, then, that the movie has no listing at IMDb and not an actual frame of animation has been seen. The only released images are that of Zya (on the right) and Neebo. What are these "supporters" basing an opinion on? Then again, press releases are supposed to build excitement, so I guess its just doing its job.
Alicia Keys is a good casting choice to anchor this kind of story, though, if for no other reason than the fact that her musical crowd will follow her career into the theater. Here's hoping the story is good too and this isn't just generated to compete with Disney's next animated feature. The African Princess is slated for a 2008 release.
Your Daily Blend of Entertainment News
Thank you for signing up to CinemaBlend. You will receive a verification email shortly.
There was a problem. Please refresh the page and try again.