All Seven Character Posters For Seven Psychopaths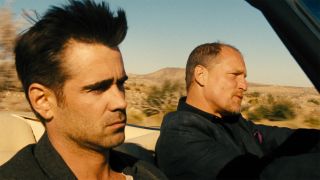 (Image credit: CBS Fims)
When word hit that playwright turned filmmaker Martin McDonagh's follow-up to his directorial feature debut In Bruges was titled Seven Psychopaths, those familiar with his work were instantly intrigued. Beyond being a pretty excellent title that evokes a sense of grand storytelling and frenzy, the name promised at least seven new additions to McDonagh's catalogue of often violent but always humorous characters. And with CBS Film's release of individual character posters, you don't need to wait for the film to hit theaters to get to know these psychos.
Psycho number one is played by Bond girl Olga Kurylenko, who shares her poster with the pup at the film's center. Once her beau kidnaps the Shih Tzu of a Los Angeles crime lord, the lives of all seven psychopaths are thrown into spin. Image courtesy of Coming Soon.
Curiously, Christopher Walken's psychopath #2 is called the non-violent one. A dognapper who has gotten on the wrong side of organized crime, he did face down a gun toting baddie in the film's first trailer by—well—by just being Walken. Image courtesy of EW.
In Bruges star Colin Farrell is seemingly normal one, and psychopath #3, a screenwriter whose best friend's unconventional schemes put his own life on the line while offering some killer inspiration. Image courtesy of Fandango. (opens in new tab)
At last, the leader of this wacky dog-abducting syndicate is played by Sam Rockwell, who memorably co-starred with Walken in the Broadway production of McDonagh's The Behanding in Spokane. In Seven Psychopaths, he is number 4, boyfriend of 1, business partner of 2, and troublemaking best friend of 3. He also favors knitted caps that resemble raccoons. Image courtesy of Rotten Tomatoes.
Sucker Punch's Abbie Cornish is psychopath #5, whose favored weapon is passive-aggressive behavior most often wielded against her struggling screenwriter beau, #3. Image courtesy of MTV.
The most intriguing poster features psychopath #6, a mysterious man with a rabbit played by Tom Waits. Little is know about this strange figure but the bunny seems a callback to to McDonagh's Oscar-winning short Six Shooter, and so doesn't bode well for #6's sanity. Image courtesy of Hitflix.
And finally, Woody Harrelson stares us down as #7, the gangster whose dog—that he loves as much as Zombieland's Tallahassee loved his "pup"—has been snatched. So obviously, there will be blood. Image Courtesy of Vulture.
And there you have it: the seven psychopaths of Seven Psychopaths. The film will make its world premiere in the Midnight Madness section of the Toronto International Film Festival; a theatrical release will follow on October 12th.
Your Daily Blend of Entertainment News
Staff writer at CinemaBlend.