The Amazing Spider-Man 2 Has Minor Role For Mary Jane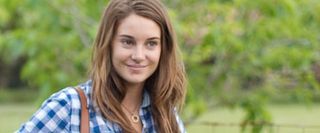 You've been hearing Shailene Woodley's name a lot lately, and that only means good things for the 21-year-old who had a big breakout last year in Alexander Payne's The Descendants. She missed out on a deserved Oscar nomination for that role, but has managed to spin it into two huge new parts: as the lead in a new series based on the young adult novel Divergent, and as love interest Mary Jane Watson in The Amazing Spider-Man.
With both looking like high-profile adaptations, you'd think there might be a scheduling conflict to keep her out of both-- but as The Hollywood Reporter explained, The Amazing Spider-Man 2 won't take up much of her time. Mary Jane Watson will indeed be introduced in the film, but it's a "very small part" that will "blossom into an integral lead for the planned third movie." If you're a comic book fan, that's clearly leading one direction: the death of Gwen Stacy. Everyone from us to Emma Stone herself has been speculating about poor Gwen's death, since it's one of the more famous deaths in Marvel comics, and even in the first Amazing Spider-Man signs seemed to be pointing toward no good end. We're hoping director Mark Webb can make the death feel meaningful even when we know it's coming, though having actors like Andrew Garfield and Emma Stone on board can't hurt-- their chemistry was the best part of the first movie, and ought to be able to sell us on anything.
Now it'll be up to Woodley to sell us on Mary Jane as a girl that doesn't just get grieving Peter's attention, but eventually gets to marry him. She's got plenty of appeal of her own, though I'm still wondering about what kind of romance she can believably strike up with Garfield, who's 8 years her senior in real life. Clearly a lot of filmmakers have faith in Woodley these days, though, so we're going to choose to have that faith too.
Staff Writer at CinemaBlend
Your Daily Blend of Entertainment News
Thank you for signing up to CinemaBlend. You will receive a verification email shortly.
There was a problem. Please refresh the page and try again.