American History X Director Tony Kaye To Tackle Attachment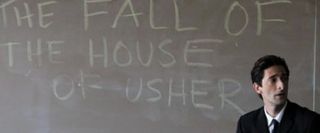 For a director who has only made one film that was seen by a reasonably wide audience-- and only after he attempted to take his own name off the film and be credited as 'Humpty Dumpty"-- Tony Kaye manages to loom large in the minds of independent film fans, mostly those hoping he'll come back and make something truly great. Since directing American History X and trying to have his name removed from it, Kaye has released the documentary Lake of Fire, and has two completed films still looking for their way to theaters-- the drama Black Water Transit and the teacher-centric film Detachment, which debuted at the Tribeca Film Festival earlier this year and will be distributed next year by Tribeca Films.
Kaye is clearly a particular guy and chooses his projects on his own terms, but I wonder if he's picked his next project simply as a lark. After all, after making Detachment he's now in talks to direct Attachment, a thriller about a woman who has an affair with her student and suffers the consequences. According to Variety production is ready to get started in the spring through W2 Media, which is fully financing. From the basic plot description this movie sounds like a standard-issue thriller, and while it's possible Kaye is trying to shake off his difficult auteur reputation and go with a more straightforward genre effort, I imagine there's more to the story than we're hearing here.
If Detachment breezes through production at a quick pace, we could conceivably see two new Tony Kaye films within next year-- and maybe a chance for him to fulfill that promise he showed in American History X, whether he liked it or not.
Staff Writer at CinemaBlend
Your Daily Blend of Entertainment News
Thank you for signing up to CinemaBlend. You will receive a verification email shortly.
There was a problem. Please refresh the page and try again.