Amy Adams Reveals Her Favorite Moment From Filming Batman V Superman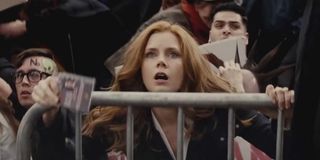 Based on the trailers and the overall direction of the DC cinematic universe, it seems as though Batman v Superman: Dawn of Justice will be just as dark and brooding as Man of Steel. However, there will be some funny moments. Amy Adams, who returns for the sequel as intrepid reporter Lois Lane, recalled her favorite scene from the film, and it's one that seems to be a lot lighter than we're used to.
Speaking with The Hollywood Reporter, she said,
In many ways, Henry Cavill's Superman seems a bit holier than thou. Okay, a lot holier than thou, which makes any humorous moments between him and the Dark Knight hard to fathom. But, apparently, they're there. We haven't seen much of Ben Affleck's interpretation of Bruce Wayne other than in the trailers, which peg him as this completely obsessed and tormented character.
In Man of Steel, there was only one real joke that I can even remember involving Lane smacking down some misogyny. So, even if there were others, they clearly weren't that memorable. We can only hope that Batman v Superman isn't as grim. Adams wouldn't really know all that much, though, because she said she hasn't seen the movie yet. That part isn't too surprising, though. We still have about five months to go before the film hits theaters on March 25, 2016.
Batman v Superman takes place in the aftermath of Man of Steel. Half the world hates and fears Superman for his devastating power, while the other half praise him as a god. Bruce Wayne is one who believes the Man of Steel to be a threat to the world and he seeks out to put an end to him. Meanwhile, this allows for Lex Luthor, a young but successful entrepreneur who acquired the dead body of General Zod after the battle in Metropolis, to enact his own plan.
The film also features Jessie Eisenberg as Lex Luthor, Gal Gadot as Diana Prince/Wonder Woman, Jeremy Irons as Alfred, Diane Lane as Martha Kent, Laurence Fishburne as Perry White, Holly Hunter as a government official, Tao Okamoto as Mercy Graves, and unknown roles for Callan Mulvey, Scoot McNairy, Jena Malone, and Jeffrey Dean Morgan. In addition, we'll get our first appearances from Jason Momoa as Aquaman, Ray Fisher as Cyborg, and Ezra Miller as The Flash.
Your Daily Blend of Entertainment News
Thank you for signing up to CinemaBlend. You will receive a verification email shortly.
There was a problem. Please refresh the page and try again.