Andre 3000's Jimi Hendrix Biopic Filming in 3 Weeks?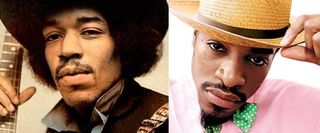 The music industry is a place that attracts a unique brand of charisma, a kind of sex appeal that oozed through chords and riffs long before video killed the radio star. Of course, music videos do help project this raw charge that spurs yearning audiences to buy albums, posters, and concert tickets, but some musicians have something so innate that just makes them endlessly fascinating. One such artist was Jimi Hendrix, whose life was short but whose impact on music and fashion has been long lasting.
With such a legendary panache, Hendrix has long been of interest to movie producers, hoping to spin his tragic tale into a rock-infused biopic. The most recent/most promising attempt was teased last yearwhen word broke that hip hop star turned actor Andre Benjamin—also known as Andre 3000 of Outkast fame—was attached to front an in-development drama as the iconic rock guitarist. At the time, Captain America star Hayley Atwell was in talks to co-star. Yet despite this inspired cast addition, little word has surfaced since.
But now news is breaking out of Ireland—or more specifically from the Irish Film & Television Network—that Benjamin's biopic is not only going forward, but is slated to kick off production in three short weeks. The film—titled All Is By My Side--will be shooting for six weeks in Dublin and Wicklow county, Ireland, and IFTN reports location shoots will include such landmarks as the Bray Head Hotel, and the John Player Cigarette Factory as well as various other locales around Dublin and Dun Laoghaire.
It appears Ireland will be doubling for London and New York as the focus of the film will be on Hendrix's discovery in an NYC nightclub through his recording of his debut album, Are You Experienced, in London, and his first brush with fame. All of this occurred in 1966 and 1967, which should give the drama an intimate and potentially electric atmosphere. There's no word on whether or not Atwell is still attached to the project, though as Hendrix was discovered by Linda Keith (future wife of The Rolling Stone's Keith Richards) it seems likely that would be the role for which she'd be slated.
I know some think Jimi Hendrix is a rock god and as such no actor should dare attempt to recreate his musical magic and stirring stage presence. (Similar arguments are currently be made against the upcoming Freddie Mercury biopic.) I can understand that argument, but personally, I think Benjamin is a brilliant choice for this role. Sure, he's relatively green as an actor, but he has an incredible presence and charisma that is dazzling and exudes from the screen. Of course, even as an indie venture, a Hendrix biopic is a risky pursuit. But I think Benjamin will make All Is By My Side something extraordinary.
Staff writer at CinemaBlend.
Your Daily Blend of Entertainment News
Thank you for signing up to CinemaBlend. You will receive a verification email shortly.
There was a problem. Please refresh the page and try again.