Andrew Garfield And Michael Shannon Sizzle In Devastating 99 Homes Trailer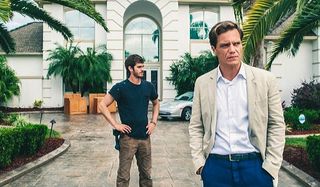 Andrew Garfield's days of wall-crawling and web-slinging may be over, but a new trailer for his drama 99 Homes shows that he's not quite done contending with villains. However, the villain in this case, played by Michael Shannon, is looking to drag Garfield's character -- a strapped, destitute, desperate father -- into a world of cynicism and corruption in an economic horror story of sorts.
99 Homes, directed by Ramin Bahrani, debuted at the Toronto Film Festival last September. Now, the film has found itself a distributor in Broad Green Pictures, releasing this trailer for the impending wide release. Clearly, the film sets the drama amongst a backdrop filled with themes related to the modern economic crisis ripped from the headlines. What's already apparent is that the dynamic between Andrew Garfield and Michael Shannon is explosive, yet subtly tragic.
Garfield plays Dennis Nash, a debt-riddled single father caring for not only his young son, but his mother, Lynn (Laura Dern). However, some fateful knocking on his front door reveals some sheriffs and Rick Carver (Michael Shannon), a real estate tycoon who makes his living with seedy practices; notably, kicking the indebted like Dennis out of their houses. Forced into temporary accommodations, Nash would again encounter Carver, who offers him an opportunity for work; putting others similarly into the streets. Reluctantly accepting, Nash soon comes to realize that as the money begins to increase in larger increments, so do the moral and legal ramifications.
This film showcases itself as a fascinating tale that's very much a product of our times in a plethora of ways. Andrew Garfield's performance as a struggling single father forced out of his home and lifestyle, clearly depicts an average man who has been caught up in the gears of a system that is heartlessly harvesting lives, grinding the grain of lower-middle-class folks into feed for a group that Carver callously calls "the winners." However, for Garfield's Nash, he is given a rare opportunity to avoid becoming the target of that putrid process.
Unfortunately, the offered fix is nothing less than Faustian, as Nash finds himself becoming the face of the very mechanism which put him in this dilemma in the first place. Thus, we see an objective character study that examines how "the system" is sustained with people like Nash who lose themselves in an effort that began with the simple notion of just trying to help his family. We see the beginnings a descent leading to a possibly tragic outcome for Nash, as signs are visible that he's slowly starting to embrace his role as a seedy fixer of sorts.
Michael Shannon's role as Carver also seems to be a more timely manifestation of Wall Street finagler, Gordon Gekko. Yet, unlike the pure greed of Gekko, he may not be just some sinister straw man for blue-collar indignation. You get the sense that Carver, though clearly corrupt, is also just a man who's just trying to get on a proverbial ark to save himself from what he metaphorically describes as the system's biblical flood. Especially haunting, is his speech saying that "only 1 in 100" (or the more widely spouted number, 1 percent) will be saved while every other "poor soul" drowns.
99 Homes gets set to pit Andrew Garfield's Spider-Man against Michael Shannon's General Zod in a different sort of dramatic battle when it hits theaters on September 25.
Your Daily Blend of Entertainment News
Thank you for signing up to CinemaBlend. You will receive a verification email shortly.
There was a problem. Please refresh the page and try again.