Andrew Lloyd Webber Bringing Jack Black's School of Rock To Broadway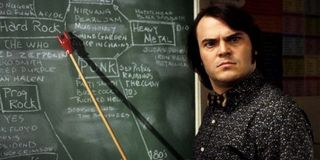 Did you ever think you would live to see the day when famed Broadway composer Andrew Lloyd Webber would announce a possible collaboration with Tenacious D rocker Jack Black?
Those stars might be aligning, according to an interview Webber gave to CBC Radio (and shared via BroadwayWorld). In it, the stage legend whose credits include Evita, Sunset Boulevard, Jesus Christ Superstar and The Phantom of the Opera admits that he has acquired the rights to the 2003's Black comedy School of Rock, and plans to convert it to a stage show. "So, I will go from Stephen Ward, which is really going to be sort of a chamber musical, to a musical about kids playing the guitar," the composer said with a laugh.
Directed by Richard Linklater (Dazed and Confused, Bernie), the original comedy cast Black as an overweight dropout who takes a job as a substitute teacher and realizes he can connect to the prodigy children in his music class by their shared interest in rock. He forms a band, selfishly led by himself on guitar, and enters a local Battle of Bands so that the kids can win, earning him enough money to pay off his rent.
There's a ton of potential in the Rock premise. It once almost spawned a sequel, but might be better served as a winning Broadway show, relying on the redemptive arc of the Black character, Dewey, as well as the rocking soundtrack which – on film – included songs by Led Zeppelin, Jimi Hendrix, Pink Floyd and AC/DC. But acquiring the rights to those classic rock gems could be a problem, which is why Webber left the door open in the interview to possible new songs that he might compose for the show.
The door between Hollywood and Broadway has become a revolving portal over the years, with so many movies triggering stage shows, and vice versa. School of Rock makes total sense as a Broadway show, and there should be a part for Black (who can sing), if he's game. Maybe cast him as the principal who opposes of the new teacher's methods? That'd be fun to watch. Here's the trailer for the Rock movie, to refresh your memory. Do you like this idea?
Movie junkie. Infatuated with comic-book films. ReelBlend cohost. Resident dad. Extroverted introvert. Wants to see the Snyder Cut. Managing Director at CinemaBlend.