Andy Samberg And Adam Sandler Are Father And Son In New Comedy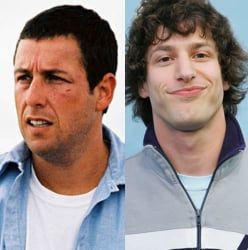 Andy Samberg and Adam Sandler are only 12 years apart in actual age, but they represent two distinctly generations of Saturday NIght Live, Sandler the mid-90s and Samberg the current era. So even if there's no real generation gap between them, the SNL factor makes them believably separate-- and maybe even believable father and son. Strange as it sounds, Sandler and Samberg are getting ready to co-star as family in I Hate You Dad, a Sony comedy that Sandler will produce.
According to THR the two actors are attached to the film that's just in the development stage, with no director on board and the script being rewritten by The State's David Wain and Ken Marino (David Caspe was the original writer). The story starts when Sandler's character, the father, moves in with his son played by Samberg just before he gets married, and the bride-to-be and her future father-in-law immediately start clashing. Though Samberg and Sandler will obviously be the film's big headliners, it sounds like there's a big role for a young actress in there, which means Anna Faris is probably getting some phone calls right now. (I'm trying to think of anyone else they'd try to cast, and coming up blank. Thoughts?)
Though Samberg is immediately recognizable from SNL sketch hits like "Lazy Sunday" and "Dick in a Box," his movie career has gone nowhere, mostly thanks to Hot Rod flopping. Sandler, on the other hand, is so bankable he can get a studio to fund his vacation with his friends and turn it into a movie that grosses over $100 million. The combination of the two of them could work well, actually, drawing in the people who shell out for whatever Sandler does as well as Samberg's smaller legion of SNL fans. Even if the age gap makes the whole thing make no sense, it's a wild casting idea that just might work.
Your Daily Blend of Entertainment News
Staff Writer at CinemaBlend