Andy Serkis Calls Motion Capture 'Digital Makeup', Riles Up Animators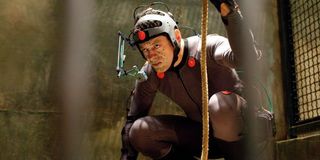 Thanks to the release of Dawn Of The Planet Of The Apes, many fans and movie-goers have been advocating for Andy Serkis to start earning more recognition for his outstanding work in the field of performance capture. He's been the mo-cap star of a series of blockbusters over the last 15 years, and his latest blockbuster only further cements him as one of Hollywood's greatest talent . But the question of how much of the performance is Andy Serkis and how much of it is special effects technicians has begun to create conflict within the ranks of those that helped get Serkis' Caesar to the big screen.
The whole controversy began with an interview that Andy Serkis did with Io9 . Discussing how far performance capture has come in the last few years, the actor said,
Serkis, who is currently directing a partially performance-capture adaptation of The Jungle Book , has used terms like "digital makeup" in a way that some animators feel minimizes their contribution. While many would consider Serkis' work pure collaboration, they see Serkis as going out of the way to make it known he is the one responsible for the heart and soul of characters like Gollum. Animators complained to sites like Film Drunk by stating, "Without the VFX guys, he's just a British guy in a leotard pretending to be a magical creature."
Dawn of the Planet of the Apes director Matt Reeves, however, has downplayed this. Speaking to Slashfilm about the controversy, the filmmaker said,
Reeves goes on to explain, in full detail, the nature of collaboration that occurs between Serkis and the animators. It's highly detailed, complex stuff, and well worth clicking over to read, if only to hear the depth of respect Reeves has not only for the motion-capture actors, but also the animators.
Animator Joe Letteri, meanwhile, broke it down to the folks at ScienceFiction .
Is one side more right than the other? Feel free to debate whether it's Serkis or the animators who deserve most of the credit for performance capture in the comments section below.
Your Daily Blend of Entertainment News
Thank you for signing up to CinemaBlend. You will receive a verification email shortly.
There was a problem. Please refresh the page and try again.