Andy Serkis Taking The Helm Of Jungle Book Movie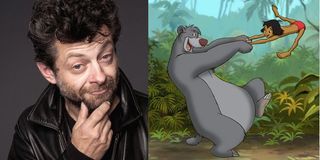 For more than a decade English actor Andy Serkis has been crafting bold performances that become the base of dedicatedly created computer generated characters like sniveling Gollum or Rise of the Planet of the Apes' fast-evolving ape Caesar. This has made him a bit of an unsung hero as well as a master of motion-capture acting. Which should prove crucial in his latest challenge: directing Warner Bros' live-action The Jungle Book.
THR reports Serkis has officially come on board The Jungle Book as its helmer. The ambitious project will mark his directorial debut. It seems a big first step for a newbie director, but as this interpretation of Rudyard Kipling's short stories will employ motion-capture animation as The Lord of the Rings, The Hobbit and Rise of the Planet of the Apes, Serkis seems uniquely qualified for the task.
Keep in mind this is one of two Jungle Book movies now in development. The Warner Bros version has been adapted by Callie Kloves, whose only previous screen credit is as a staff assistant on Gangster Squad. Still, it seemed a hot property with Babel director Alejandro Gonzalez Inarritu initially attached to helm. Then, when he left the project over a reported scheduling conflict, Academy Award nominee Ron Howard entered into talks to replace him. But those talks soon fell apart, and now WB is putting their faith in Serkis, who beyond his extensive experience as a mo-cap performer also served as Peter Jackson's second unit director on all three Hobbit movies. His responsibilities on the latter included directing the barrel-chase sequence of The Hobbit: The Desolation of Smaug, which was originally conceived as the climax of the first film, back when there were only to be two.
The other Jungle Book is coming from Disney with a script from Justin Marks (Street Fighter: The Legend of Chun-Li), and will be directed by Iron Man helmer Jon Favreau. The two films could face off Mirror Mirror/Snow White and the Huntsman style. But in the race to production, Disney's seems to be in the lead having set their director first and moved on to casting, securing the magnificent Idris Elba as the voice of the purring predator Shere Khan.
Notably Disney has made The Jungle Book twice before, in 1967 as a charming animated movie, then in 1994 as a critically praised live-action effort that disappointed at the box office. Warner Bros hopes to set their version apart from all of the above by sticking closely to the source material, which is said to be much darker than any of its movie adaptations. It'll be interesting to see if Serkis only directs, or if he also picks out a role for himself amid all the CGI animals.
This poll is no longer available.
Your Daily Blend of Entertainment News
Staff writer at CinemaBlend.