Angelina Jolie Bumps Kristen Stewart As Hollywood's Highest-Paid Actress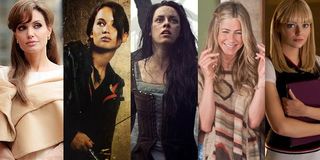 Who are the highest paid actresses in Hollywood? Forbes interviewed agents, managers and other in-the-know industry types to estimate how much A-list actresses made between June of 2012 and June of 2013. The resulting top five are Angelina Jolie, Jennifer Lawrence, Kristen Stewart, Jennifer Aniston and Emma Stone.
While Jolie used to be a star never far from the spotlight, she hasn't appeared in a movie since her critically loathed romp with Johnny Depp in 2010's The Tourist. Nonetheless, Forbes notes she's one of the few actresses in Hollywood who can demand (and get) more than $15 million for a movie, and remarkably they estimate Jolie has made about $33 million in the past year—and that's just with Disney's Maleficent coming out in 2014.
Snagging second place, Jennifer Lawrence is predicted to have made $24 million in the past year. The how is a little ambiguous on Forbes part, but presumably becoming an Academy Award-winning Best Actress (for Silver Linings Playbook) means you can understandably raise your rate. And Lawrence has a slew of projects coming up, including three more Hunger Games movies, David O. Russell's American Hustle, and X-Men: Days of Future Past. While she made less than a million on the first Hunger Games movie, Lionsgate was willing to give her a major raise for the sequel Catching Fire, which they could definitely afford considering all the box office records the first film shattered. Let's celebrate her good fortune with a Lawrence GIF, and may the odds be ever in her favor!
Kristen Stewart's in third with $22 million, or $12.5 million less than won her the top honor last year. Part of the reason for this is obviously the end of the cash cow that was the Twilight franchise. Then of course her Snow White and the Huntsman didn't prove a major hit, but when talks of sequel were in the works Stewart's reputation took a major hit when an affair with SWATH director Rupert Sanders came to light. Forbes makes no mention of this scandal, but considering Stewart has since been shying away not only from the spotlight but also from big name productions, her bank roll has taken a hit. Forbes warns that if this trend continues, this could be Stewart's last year on their top 100 list of Hollywood's most powerful people.
Coming in close on Stewart is Jennifer Aniston with $20 million to her credit. Frankly, Friends has made the star so much (and it seems still is) that she "never really needs to work again" by Forbes estimation. Good for her! Now Aniston can dedicate herself to movies she feels really must be made! Like the upcoming R-rated comedy We're the Millers?
Finally, bringing up the rear is Emma Stone, who makes her first appearance on Forbes 100 list this year. The funny ingénue whose starred in The Amazing Spider-Man, Movie 43, Gangster Squad, and The Croods made $16 million within the last 12 months. And with The Amazing Spider-Man 2 coming in 2014, we expect things will continue to look up for Stone.
Staff writer at CinemaBlend.
Your Daily Blend of Entertainment News
Thank you for signing up to CinemaBlend. You will receive a verification email shortly.
There was a problem. Please refresh the page and try again.