Maddox And Zahara Jolie-Pitt Also Make Cameos In Maleficent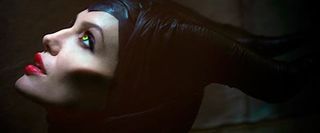 Though plenty of people can, with no small amount of shame, name all of Angelina Jolie and Brad Pitt's children in age order, the two superstars seem to have done a fairly good job of keeping their brood out of the spotlight, no matter how many times they're photographed visiting toy stores or museums. The oldest kids are at an age where they could easily start becoming child stars a la Willow and Jaden Smith, but the Jolie-Pitt family largely sticks behind the scenes-- except for a few well-placed cameos in Mom and Dad's movies, that is.
Shiloh, a toddler at the time, made a very brief appearance in The Curious Case of Benjamin Button, and we learned recently that four-year-old Vivienne would be showing up in Jolie's upcoming Maleficent, playing the child version of Elle Fanning's Princess Aurora. Now US weekly-- those venerable documenters of all things Jolie-Pitt-- have learned that two more kids, Pax and Zahara, will also appear in Maleficent, though neither with speaking roles. And, in a terrific detail, their source tells them that Shiloh was also supposed to have a part, "but she was bored and not in the mood during the day her part was supposed to happen, so she ended up not being in the film."
Fans of celebrity gossip will probably want to have their eyes peeled for the appearances of the Jolie-Pitt kids when Maleficent opens in theaters March 14, 2014-- but the rest of us may not even manage to notice they're there. With the Smith kids busy taking over the world with music and film careers, perhaps it's a good thing that the Jolie-Pitts are still managing to keep a low profile. And, in case you were wondering: Maddox, Pax, Zahara, Shiloh, Vivienne & Knox. From oldest to youngest. And yes, I did that from memory.
Your Daily Blend of Entertainment News
Staff Writer at CinemaBlend