Angelina Jolie To Co-Star With Brad Pitt And Direct 'By The Sea'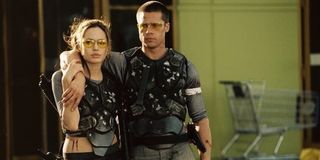 Has there been a major Hollywood couple where the wife actually directed her husband in a movie? The Hollywood directing ranks are overwhelmingly male, but there have been no shortage of power couples that could have tried it out. But more often than not, it's the man who wears the pants behind the camera. Kudos to Angelina Jolie and Brad Pitt, who, with the help of Universal, will try to change that.
CNN reports that Angelina Jolie and Brad Pitt will star in By The Sea, which Jolie will write and direct. The material is being called an "intimate character-driven drama," which likely means it will share no DNA with the last time Pitt and Jolie were onscreen together. That would be nine years ago, when they finally became a romantic pair offscreen while shooting the fantasy action romance Mr And Mrs. Smith.
This will be Jolie's third directorial effort. This winter, Universal is releasing Unbroken (catch a peek below), a World War II P.O.W. drama co-written by the Coen brothers and expected to be a major player for the studio during awards season. They're locking Jolie down now as a director even though we don't know if Unbroken is a hit or a flop just yet - and no one registered any real enthusiasm for Jolie's directorial debut, In The Land Of Blood And Honey. That film was never meant to be a box office smash, but it's not the type of movie anyone really brings up, unless they're referring to Jolie's involvement.
Regardless, the studio isn't really investing in Jolie the director (or writer) as much as Jolie the star. Since 2008, she's appeared in only five films, and four of them grossed over $100 million worldwide; a fifth, Changeling, still registered a solid $77 million globally. Jolie is also coming off her biggest hit: Maleficent is still playing and it's on the cusp of $700 million. That's some fly cheddar.
Pitt hasn't been a slouch either, to the point where you wonder how he'll find the time to be in this movie. Later this year he'll star in Fury, and beyond that he's still attached to a World War Z sequel, while producing a number of films like The Big Short with director Adam McKay, and The Operators in which he may also star. Hey Angie, good luck getting Brad to settle down. Unbroken hits theaters Christmas Day.
Your Daily Blend of Entertainment News
Thank you for signing up to CinemaBlend. You will receive a verification email shortly.
There was a problem. Please refresh the page and try again.