Angelina Jolie's New Movie Spoils Its Own Ending With First-Look Image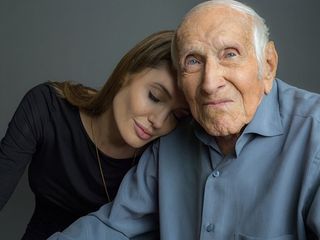 Spoiler alert: that is image is what happens at the end of Angelina Jolie's next movie. OK, so it probably won't actually be in the movie, but it does reveal the ending of the story at the center of Unbroken, which Angelina Jolie is gearing up to direct this month. Based on the book by Laura Hillenbrand, it tells the story of Louis Zamperini, a runner who competed at the 1936 Olympics (hosted by Hitler!) then enlisted to fight in World War II. When his plane crashed in the Pacific he survived 47 days at sea, then was captured by the Japanese and endured years in a brutal Japanese prison camp. And, as you can see in the photo, he eventually got to meet Angelina Jolie. What a life.
The fact that Zamperini survives is, obviously, not a spoiler-- people don't tend to make biopics about people who endure a ton of hardships during the war and then eventually die. And the fact that Zamperini is still alive has allowed Unbroken's star, newcomer Jack O'Connell, to get to know the man he'll be portraying-- according to the release that accompanied this photo, O'Connell tried on Zamperini's World War II bomber jacket, and it was a perfect fit.
O'Connell, who's already being eyed for some other high-profile roles, will be joined in the film by Domhnall Gleeson and Finn Wittrock as two other POWs. When I talked to Gleeson last week about his role in the upcoming About Time, he told me they were preparing to shoot scenes from later in the film, in which the three soldiers are starving; that had Gleeson on a strict diet that got him to the point where getting to eat a baked potato was an unbelievable luxury. O'Connell and Wittrock are presumably in similar conditions, which means they'll be thrown into some of the toughest parts of the shoot first thing-- but at least they're that much closer to getting to eat two baked potatoes someday.
Unbroken is currently set for release on Christmas Day next year. You can follow along with the film's development here. Here's Hillenbrand's statement on what inspired her to write the book, which should give you a pretty good idea of the story that Jolie has to work with:
Staff Writer at CinemaBlend
Your Daily Blend of Entertainment News
Thank you for signing up to CinemaBlend. You will receive a verification email shortly.
There was a problem. Please refresh the page and try again.