Angry Birds Movie Coming July 1, 2016 From Sony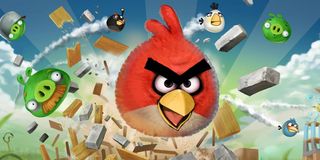 I stopped playing Angry Birds years ago, once I had beaten most of the levels and realized I was turning my brain to mush by playing iPhone games on the subway. (OK, fine, I moved on to Ticket to Ride, are you happy now?) But now scheduled for 2016, a full six years after the game's peak popularity, an Angry Birds movie will finally grace our planet. Now you can waste time in the company of a bunch of other people paying $15 for the privilege!
Sony Pictures announced today that they've acquired the exclusive worldwide rights for an animated Angry Birds film, which is now set for release on July 1, 2016. Angry Birds developer Rovio Entertainment, which went from a tiny operation to a global phenomenon practically overnight, has been working to make the movie happen since 2010, back when the game was a new hit. At the time the idea was to make a series of animated shorts, but not long after they brought in former Marvel Studios chair David Maisel to spearhead the project, and he waxed on about the "emotional connection" that people established with the birds while launching them at a bunch of building blocks and green pigs. Sure.
Despicable Me producer John Cohen joined up last winter to get the project ready for the 2016 date, and now after several studios tripped over themselves to fight for the rights, Sony has come out victorious. The official release has the studio chairman Amy Pascal praising the "excitement, brand awareness and built-in audience" of Angry Birds, but the truth is in the facts: the game has been downloaded more than 1.7 billion times. It is the highest grossing paid app of all time. A movie based on a game this simple makes no sense at all, but it was also inevitable.
Your Daily Blend of Entertainment News
Staff Writer at CinemaBlend
Your Daily Blend of Entertainment News
Thank you for signing up to CinemaBlend. You will receive a verification email shortly.
There was a problem. Please refresh the page and try again.