Anna Faris Is A Playboy Bunny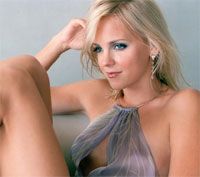 Anna Faris's latest movie, Smiley Face, casts her as a female stoner whose as sexless and bland as she is stupid and stoned. And she's really stupid and stoned. So it's good news that her next move will take her in a much more appealing direction. Anna's next movie will cast her as an ex-Playboy bunny.
Unfortunately, the movie is another one of those lame college campus comedies Anna Faris so often ends up in. When she's not doing parody movies, she invariably ends up in one of these. This one has Faris as an ex-Playboy bunny who moves into the lamest sorority on campus and tries to make them popular and cool. Legally Blonde writers Karen McCullah Lutz and Kirsten Smith came up with the script, presumably after watching a Van Wilder/Van Wilder 2 double feature. Even the prospect of seeing Anna Faris dolled up as a bunny doesn't make this thing worth seeing.
Your Daily Blend of Entertainment News
Thank you for signing up to CinemaBlend. You will receive a verification email shortly.
There was a problem. Please refresh the page and try again.