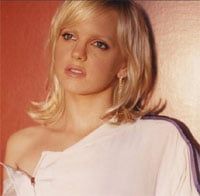 Anna Faris is mostly known for her comedic roles, but it looks like she's about to try dramatic acting. That's a good thing, since even though she's in a lot of comedies, she's actually not very funny.
For her switch to drama Faris is going all the way right away. MTV says she's planning to play a porn star. Not just any porn star, but infamous Deep Throat porn actress Linda Lovelace. Faris says they're working on putting the project together and that, "it's a really deep, dark drama."
The film's called Inferno, and from what Faris says it sounds like it'll follow Lovelace's ultimately tragic story from her appearance in X-Rated movies in the 70s and subsequent rise to counter-culture pop-stardom and into her later years where she became an anti-porn crusader before dying in a car crash in 2002.
Yes, I know what you're all thinking. Presumably this would require Faris to strip down, at least she ought to if she plans to play a porn star. Don't count your nudity before it's hatched though. She wouldn't be the first Hollywood actress to make a movie about the sex industry while refusing to show any actual nudity or sex. Everybody wants to play a stripper, but nobody wants to take off their underwear. So get your mind out of the gutter… at least until there's a gutter to get in.
Your Daily Blend of Entertainment News