Anna Kendrick Says She's Completely Burned Out On Musicals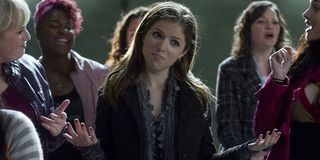 Anna Kendrick made a name for herself in Hollywood by balancing roles in the blockbuster franchise Twilight and the Academy Award-nominated dramedy Up In The Air. But she became an unexpected singing sensation when she brought her quirky cup game to Pitch Perfect. Since then, roles in musicals have come her way fast and furious, and frankly she's had enough of it.
Talking to Yahoo, Kendrick was frank:
It's true Kendrick has a trio of musicals coming up. And we'll break down details on each below. But it's highly unlikely this exhaustion means the end of Kendrick's musical career. The outspoken star has been performing them professionally since 1998, when she made her Broadway debut in High Society at the tender age of 13. It's far more probable that this statement, made at a special distributor screening of The Last Five Years at Lincoln Center on Monday night speaks more to just how taxing her performances in two of these three productions has been.
Following the success of Pitch Perfect, Kendrick was cast in the Walt Disney Pictures' big budgeted adaptation of Steven Sondheim and James Lapine's Into the Woods. Set for Cinderella, Kendrick joined an ensemble that boasts A-Listers like Jake Gyllenhaal, Chris Pine, Johnny Depp and Meryl Streep, as well as celebrated character actors like Tracey Ullman, Lucy Punch, Christine Baranski and James Corden. In the Rob Marshall-directed film due out December 25th, she'll perform the song heard below:
While it might have been intimidating being a part of such a big production, her follow-up was more demanding. The Last Five Years is an adaptation of an Off-Broadway musical that centers on the blossoming and eventual wilting of the romantic relationship between a struggling actress named Cathy, and a aspiring novelist names Jamie. Told from two perspectives, the man's begins at the beginning, moving forward, while the woman's starts at the end, progressing back.
Kendrick stars opposite Jeremy Jordan from Broadway's Newsies. But the real challenge here was all about the singing. First off, the entire film is sung--no spoken dialogue. Secondly, all of the songs were recorded live, as opposed to pre-recorded in a studio and then lipsynced to on set. This means every take demanded her to sing at full force, take after drama-drenched take. Jordan explained:
Writer-director Richard LaGravenese made the film with what Yahoo is calling a "shoestring budget", shooting on location in a New York City brownstone over 21 days. All this makes The Last Five Years sound like a fascinating film, but I'm tired just imagining the endurance required for this shoot.
Here's highlights from the musical's 2013 Broadway revival:
Despite all this, Kendrick still has Pitch Perfect 2 on the horizon. Reprising the role of acapella rebel Beca, Kendrick rejoins the cast of Brittany Snow, Rebel Wilson and Anna Camp. Elizabeth Banks, who appeared in the first film, will helm the second. At this time, we have no plot details, but we do know Pitch Perfect 2 is set to sing out on May 15, 2015.
Staff writer at CinemaBlend.
Your Daily Blend of Entertainment News
Thank you for signing up to CinemaBlend. You will receive a verification email shortly.
There was a problem. Please refresh the page and try again.