Anne Hathaway Gets Her Own Life Of Pi With Adaptation The Lifeboat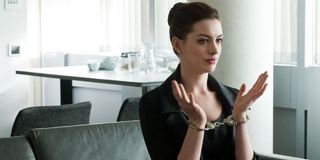 For years the only example of a film that really worked when set entirely on a tiny boat was Alfred Hitchcock's Lifeboat, a dark and sometimes surprisingly funny drama about survivors of a passenger ship sunk by a U-Boat in World War II. Then came last year's Life of Pi, an adaptation of Yann Martel's fantastical novel about a boy who not only survived on the high seas, but with a tiger as a stowaway on his tiny boats. Suddenly survival is hip again!
And Anne Hathaway, who somehow managed to set trends even when having her hair brutally cut off on film, is getting in on this one too. THR reports that she's attached to star in and produce an adaptation of The Lifeboat, a historical novel by Charlotte Rogan about a young woman accused for murder after her experience on a crowded lifeboat. She and her husband had been on board the transatlantic cruiser The Empress when it sank, and though they were joined by plenty of survivors on the lifeboat, the overcrowded boat becomes harder and harder to deal with as the days go on. Reviewers cited on Amazon call the book "riveting" and "a detailed and chokingly graphic novel," which makes it sound a lot more grim than Life of Pi… but actually grim in a way that's perfect for Hathaway.
The starlet who's still occasionally best known for The Princess Diaries has been setting a course for herself in the last year in which she's the put-together relatable face in the middle of a world gone mad. Her Selina Kyle in The Dark Knight Rises was a thief, sure, but a moral one, and the obvious love interest to help Bruce Wayne achieve his (possible?) happy ending. In Les Miserables, Hathaway's Fantine is the innocent good girl whose one mistake-- falling in love with a bad guy and having his daughter-- winds up leading to her ruin. Save Rachel Getting Married, Hathaway's never been cast as someone particularly cynical or tough (and when she was, as Catwoman, she inevitably revealed a softer side). As a very pretty and gentle-seeming girl drawn to dark material, though, Hathaway has managed to carve out a remarkable niche for herself-- the good girl gone dark, but not too dark.
And from the sounds of The Lifeboat, the character Grace will give Hathaway the same opportunity-- a woman morally conflicted, accused of murder, an unreliable narrator recounting an impossible circumstance… but how innocent was she, really? The novel is told in flashbacks, with Grace defending herself at her trial based on entires from her journal, and that kind of thing can be hard to translate to screen. But if Life of Pi could do it… and we've long since learned not to underestimate Anne Hathaway when she's determined.
Staff Writer at CinemaBlend