Annette Bening And Julianne Moore Get Hitched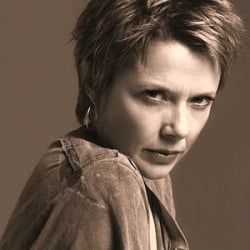 How cool would it be to have Annette Bening and Julianne Moore as your parents? Two actresses who both deserve Oscars but have never won one, two actresses who are essentially fearless in the roles they choose, and two actresses you imagine could probably teach you a lot about life if you grew up in their house. With these two ladies raising you, why would you seek the sperm donor who actually gave you his genes? Well, if the sperm donor were Mark Ruffalo, I suppose I could be convinced.
In The Kids Are Alright, Mia Wasikowska (a.k.a. Alice in Tim Burton's upcoming Wonderland) and Josh Hutcherson will play two kids raised by a lesbian couple (Moore and Bening) who seek out their sperm donor (Ruffalo) and wreak havoc once he becomes part of their lives. Variety writes that the indie production begins shooting today, with High Art director Lisa Cholodenko handling the script she co-wrote with Stuart Blumberg.
This is one of those indie productions that's going forward without a distributor, but come on, who wouldn't want to distribute this movie? The very idea of Moore and Bening building a marital bond ought to be enough to get any film nerd worth their salt lining up on opening night. Who's with me?!
Staff Writer at CinemaBlend
Your Daily Blend of Entertainment News
Thank you for signing up to CinemaBlend. You will receive a verification email shortly.
There was a problem. Please refresh the page and try again.