Annette Bening Replaces Diane Keaton For The Look Of Love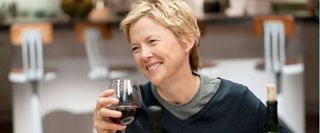 Last year at this time, the ever-graceful Annette Bening was at the center of Oscar buzz thanks to her heartbreaking turn in the poignant dramedy The Kids Are All Right. Of course, we all know the award that night went to Natalie Portman for Black Swan, but the loss hasn't seemed to faze Bening. Since then, she has lined up a robust slate of projects, including the Kristen Wiig-fronted comedy Imogene, the in-production, romance-centered biopic Hemingway & Fuentes, and He Loves Me, directing duo Jonathan Dayton and Valerie Faris's long-awaited follow-up to Little Miss Sunshine. It seems Bening cannot get enough of love stories as Hollywood.com has just unveiled she's signed on to The Look of Love, where she'll star opposite Ed Harris.
The Look of Love centers on a widow named Niki, who believes she's through with love until she meets a man (Harris) who looks exactly like her late husband. We first got word of this romantic feature last year, when writer-director Arie Posin (The Chumscrubber) was prepping to pitch it at the European Film Market. However, at that time, it was Diane Keaton who was attached to star opposite Harris.
There are no details on why Keaton has walked away from the project, but I think Bening is an inspired replacement pick. Sure, she doesn't have Keaton's track record for rom-coms, but for me that's part of the appeal here. With Keaton and Harris, it was easy to picture The Look of Love; it would be enjoyable though possibly predictable. However, with Bening, an accomplished dramatic actress and winsome comedic performer, there's an element of the unexpected when it comes to how she may approach the role. Plus Bening and Harris both possess a kind of effortless sexuality that is sure to sizzle onscreen.
While there's been little mention of the film's genre thus far, it seems certain The Look of Love will be a dramedy. Not only would this be in the vein of Posin's last feature, but also reports that Robin Williams has joined the cast suggest the movie will veer into comedic territory despite its mournful setup.
The Look of Love is looking to shoot this Spring, with plans to hit theaters in 2013.
Your Daily Blend of Entertainment News
Staff writer at CinemaBlend.
Your Daily Blend of Entertainment News
Thank you for signing up to CinemaBlend. You will receive a verification email shortly.
There was a problem. Please refresh the page and try again.