Arnold Schwarzenegger Reuniting With James Cameron For Avatar 2?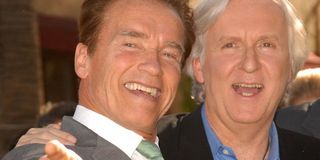 UPDATE: Variety has gotten a statement about this story from 20th Century Fox who have denied the rumor, saying that there is "No truth to this." The original report is below:
Arnold Schwarzenegger and James Cameron go way back, from when Cameron reportedly tried to find a reason not to cast Schwarzenegger in The Terminator until he was so charmed by him that he gave him the role that would change both of their careers. The two haven't worked together since 1994's True Lies, mainly because Schwarzenegger was busy running a state and Cameron was making gigantic movies that took about a decade apiece, but is there finally time for the two of them to reunite… and on a planet far, far away?
According to Latino Review, Cameron is planning to take his old buddy Schwarzenegger with him on his next journey to Pandora, casting the Governator as one of the bad guy humans who return to the alien planet in their never-ending quest for that sweet, sweet unobtanium. Given that Stephen Lang was essentially playing a Schwarzenegger type in the first Avatar it's not hard to imagine Arnold stepping into the role, especially now that he has no connections to politics that might keep him out of it. And though playing a human in the world of Avatar surely isn't a lazy Sunday afternoon on the recliner, it's gotta be a lot easier than strapping on the mo-cap Na'vi suits, and I have a hard time imagining Schwarzenegger putting himself through that, even for an old buddy.
Avatar 2, and soon to be Avatar 3 & 4, is finally, actually moving forward after years of promises, with the first sequel set for release in December 2016. Cameron's been setting up shop in Peter Jackson's old stomping grounds in New Zealand for the production, and back in July screenwriter Josh Freidman was brought on board to work with Rise of the Planet of the Apes writers Rick Jaffa and Amanda Silver as well as Shane Salerno, who both wrote Armageddon and directed the recent documentary Salinger. Cameron, who is a complete genius when it comes to directing, is not writing the script this time, and for that we can all be grateful.
The biggest question about this giant bunch of Avatar sequels we're getting isn't Schwarzenegger's role or really anything to do with the humans onscreen; it's whether the motion capture and 3D effects from the first Avatar can be as dazzling seven years and many technological advances later. Since Avatar came out in 2009 we've had Martin Scorsese and Sam Raimi make stupendous 3D movies, and all-CGI characters like The Hulk and Caesar the ape who felt even more believable than Avatar's Na'vi. If there's anyone likely to raise the bar on technology it's Cameron, with his unlimited money and passion for the next big thing. But the competition is a lot fiercer than it used to be… and the Governator alone won't be enough to get Cameron past them.
(Schwarzenegger/Cameron image via s_bukley (opens in new tab) / Shutterstock.com (opens in new tab))
Your Daily Blend of Entertainment News
Staff Writer at CinemaBlend