Artemis Fowl Adaptation Somehow Reunites Harvey Weinstein With Disney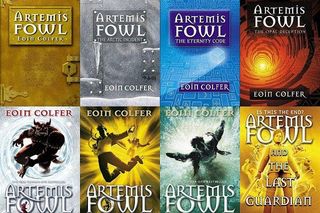 It's bizarre to see news that Harvey Weinstein is teaming up with Disney for a project, and a children's book adaptation at that. And apparently no one is more surprised than Harvey Weinstein. In a press release that announced that Weinstein and Disney would be collaborating on an adaptation of the children's book Artemis Fowl, the head of the Weinstein Company was up front about how strange it all seemed:
In case you've forgotten about the bad blood between the mega-powerful producer and the mouse-eared company, back in 1993 Disney bought Miramax, the company that Weinstein had founded with his brother Bob and had by then already turned in an independent film icon with releases like Clerks,sex, lies and videotape and The Crying Game. Things were fine if occasionally tense until 2005, when the Weinsteins jumped ship to found The Weinstein Company, leaving the Miramax brand under Disney's neglectful rule. Disney sold Miramax in 2010 to an assembly of financiers and banks, and now the company that revolutionized American independent films is pretty much just a back catalog of titles, a towering ruin from another time.
I kind of figured Harvey Weinstein would keep his distance from Disney for the foreseeable future-- after all, he's doing just fine fighting with Warner Bros. and grooming this year's Oscar contenders-- but apparently the lure of this particular children's book was too much to resist. Artemis Fowl is yet another modern series of young adult books about a protagonist with special gifts, this one a teenage criminal mastermind who kidnaps a fairy in order to rescue his own kidnapped father. As the rundown in the press release puts it, though, "These aren't the fairies of the bedtime stories. They're dangerous."
There are 21 million copies of the eight Artemis Fowl books in print, and apparently Weinstein's kids love them, but you can pretty much guarantee it's the potential to tap into a giant audience that has Weinstein on board. Robert De Niro and Jane Rosenthal, the team who bring you the Tribeca Film Festival each year, are also on board as executive producers, and Harry Potter and the Order of The Phoenix (plus Green Lantern, yikes) writer Michael Goldenberg is handling the screenplay. Reports of giant screaming matches behind the scenes between the various executives on this project have yet to emerge, but are probably as inevitable, so keep your ear to the wall, Disney staff. We're dying to see how this unlikely partnership pans out.
Your Daily Blend of Entertainment News
Staff Writer at CinemaBlend