Avatar 2 May Go Beyond Pandora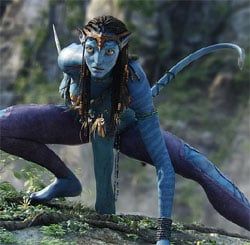 The possibility of an Avatar sequel is nothing new, but the information on the potential plot certainly is. Back in September, the film's producer, Jon Landau, told the French magazine Le Film (translated by Slash Film), "If the public likes Avatar, it's a possibility. After all, here we are exploring the surface of the planet Pandora. The interior remains to be seen."
This news holds little value unless you're aware of how much time James Cameron put into creating Pandora. Great care went into devising every element of the Na'vi home planet down to the tiniest flower. Exploring the innards of Pandora would likely open up an entirely new setting filled with never-before-seen creatures and plant life.
Now, according to MarketSaw, Avatar 2 may venture beyond Pandora and enter an entirely new plant altogether. One of the site's 'top sources' said, "What would you think if I told you that should a sequel to AVATAR happen, it might not even take place on Pandora? It's all up the air as of now. But remember I'm telling you this. Pandora is not the be all and end all of the Consortium." Introducing a whole new planet would be monumental and could potentially bring Avatar on the level of films like Star Trek and Star Wars. Did you think just one planet would be enough for the guy responsible for Titanic? Forget one plant, Cameron wants a damn universe! MarketSaw's source also guarantees some major surprises when the film hits theaters hits theaters on December 18th.
With all of the buzz surrounding the movie, Avatar is on the road to be a hit, but what qualifies a movie with such an enormous budget as a success? How does a movie costing over $200 million guarantee a profit, let alone enough cash to justify a second film?
Staff Writer for CinemaBlend.
Your Daily Blend of Entertainment News
Thank you for signing up to CinemaBlend. You will receive a verification email shortly.
There was a problem. Please refresh the page and try again.