The Avengers: Age Of Ultron Honest Trailer Is Hilarious And On Point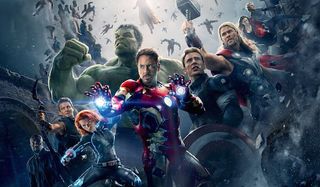 Although Avengers: Age of Ultron was a commercial success (unless you ask Disney) and earned mostly favorable reviews, the general consensus is that it didn't quite measure up to its predecessor. That makes it appropriate fodder for a new Honest Trailer. While previous installments of these parodies felt like they were reaching, this time around the critiques are on point for Avengers: Age of Ultron, which they describe as the movie equivalent of "emptying out your entire toy box and smashing all your action figures into each other."
The folks at Screen Junkies kick things off by pointing how the Avengers didn't assemble to defeat Iron Man 3, Thor: The Dark World and Captain America: The Winter Soldier's threats together, but they did join forces again to investigate a possible threat at a secluded HYDRA compound. Sure, why not? From there, they draw attention to how director Joss Whedon was given the near-impossible task of creating a standalone sequel while also setting up Captain America: Civil War, Thor: Ragnarok, the Avengers: Infinity War movies, and Black Panther. Did he succeed on the standalone aspect? Not really, and as the trailer's narrator notes, Whedon decided not to return to for the next Avengers films, indicating the fans and Marvel Studios may have "broken him." Don't worry, guys, Whedon will be back with a vengeance…right?
While Avengers: Age of Ultron certainly isn't without high point, there was certainly more issues this time around compared to 2012's The Avengers. For instance, there's Ultron himself, a villain who showed promise in previews but ended up being not nearly as interesting as Loki, and…well, actually, so far the God of Mischief is the only exceptional villain this franchise has produced. There were also the rushed side plots like Black Widow's past, Thor's "magic jacuzzi," and the Black Widow/Hulk romance, which weren't terrible, but certainly didn't make the film any more enjoyable. At least there was one winner in the movie: Hawkeye. Thanks to meeting his family and him getting to do more this time around (he's sick of getting mind controlled), the archer went from being our least favorite Avenger to our third or fourth least favorite Avenger. Baby steps, Clint.
Opinions differ on how good or bad Avengers: Age of Ultron really is, but it certainly accomplished one thing: setting up the events to come in Phase Three. Moviegoers won't have long to wait to see Earth's Mightiest Heroes again, as most of the Avengers will assemble alongside new MCU heroes next year in Captain America: Civil War, which has been understandably been nicknamed Avengers 2.5. No doubt that blockbuster will be a prime target for an Honest Trailer.
Connoisseur of Marvel, DC, Star Wars, John Wick, MonsterVerse and Doctor Who lore. He's aware he looks like Harry Potter and Clark Kent.
Your Daily Blend of Entertainment News
Thank you for signing up to CinemaBlend. You will receive a verification email shortly.
There was a problem. Please refresh the page and try again.